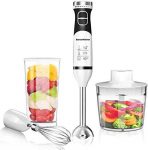 Bonsenkitchen Immersion Hand Blender, 9-Speed Handheld Stick Blender with Whisk, 700ml Mixing Beaker & 500ml Chopping Bowl, Perfect for Baby Food, Smoothies, Sauces, Purée, and Soups, BPA-Free, 225W

Price: $37.99 - $34.99


Product Description
POWERFUL AND EASY CONTROL HANDBLENDER

Easy blending, chopping, and whisking at any speed
The Bonsenkitchen hand blender combines 225 Watt motor power with a double-action stainless-steel blades and multiple speed settings, giving a wonderfully smooth result in seconds. Ergonomic soft-touch handgrip, designed to give a secure and safe grip which allows for easy holding and maneuvering of the hand blender during use. Multiple speed settings and turbo button that gives you more power as you desired. Start slowly to prevent splashing and smoothly speed up till you reach the required speed for each application and every type of ingredient. Featuring a compact, hand-held design, the Bonsenkitchen blender is great for daily use and can be stored in a drawer or cabinet without taking up too much space. Preparing healthy and delicious homemade food has never been so easy!
Features:
Low Noise
Turbo Button
Slim Ergonomic Handle
Multiple Speed Settings
Easy to Clean
Blend Soups, Sauces, Beverages and more
Durable Silicone and Stainless Steel Construction
MAXIMUM BLENDING PERFORMANCE
The double-action stainless-steel bladesensure all ingredients are reached and blended exactly as you need, and in less time. Whether you're making a smoothies or a creamy soup, they'll be able to tackle it perfectly and effortlessly.
ANTI-SPLASH BLADE GUARD DESIGN
Don't worry about any messes when you cook. Our special blade guard will stop splashes big and small. Its waved shape attached to the bottom of the blending bar mess — and less clean-up later.
ERGONOMICALLY DESIGNED GRIP
The comfort and simplicity grip handle will help you control your blending, so you can create the perfect texture for your tasty dishes.
Whisk accessory for whipping cream, mayonnaise and more
Single whisk accessory for Bonsenkitchen hand blender for whipping cream, mayonnaise, pancake batter and more. Makes your hand blender multifunctional and versatile.
17 oz Measuring Mug for optimal blending, whisking, and mixing
The unique triangular shape feature of the Measuring Mug offers an easy grip and creates a vortex that pulls down the ingredients towards the bottom of the Measuring Mug were then blending bar cage is, for optimal blending, whisking and mixing.
24 oz chopper bowl to chop onions, nuts, cheese, chocolate
With the 24 oz chopper accessory for a Bonsenkitchen hand blender you can chop large quantities of herbs, nuts, cheese, chocolate and onions in seconds.
【4-in-1 Ergonomic Immersion Hand Blender】Including Hand Blender, 500ml chopper bowl, 700ml measuring cup, egg whisk. Perfect for baby foods, soups, smoothies, Purée and more. Ergonomic handle support one-handed operation with ease and help you to make food preparation process faster and easier.
【Variable 9-Speed Control】Bonsenkitchen stick blender equipped with 9-Speed adjustable settings & turbo boost can quickly blends ingredients and meet various blending task with its stainless steel shaped blade. Save your time and energy.
【Solid Internal Structure & Enhanced Blending Blade】The kitchen hand blender built in full copper motor, which has much better heat dissipation than ordinary motors and has a life span of 200% longer than other motors. Semi-wrapped stainless steel blade guard designed preventing splashing and keeping food from getting stuck.
【Easy To Use & Dishwasher Safe】The stick blender is detachable and all parts are easy to assemble, just need to combinate the accessories with main body. Also, the detachable parts are dishwasher safe for easy cleaning. But don't immerse the motor part of the blender into water.
【Quality Guarantee】1 year warranty & lifetime technical support. No toxic chemicals will be released during food processing with our BPA free containers. This multifunctional hand blender is a durable and practical kitchen accessories, the best choice for gifting friends or family.
baby gadgets,#Bonsenkitchen #Immersion #Hand #Blender #9Speed #Handheld #Stick #Blender #Whisk #700ml #Mixing #Beaker #500ml #Chopping #Bowl #Perfect #Baby #Food #Smoothies #Sauces #Purée #Soups #BPAFree #225W