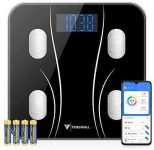 Body Weight Scale, Digital Bathroom Scale Body Composition Monitor Health Analyzer with Smartphone App for Body Weight, Body Fat, Water, BMI, BMR, Muscle Mass 396 lbs

Price:

$22.99




Product Description
15 ESSENTIAL HEALTH MEASUREMENTS:

Weight, BMI, Body Fat, Body Water, Skeletal Muscle, BMR, Fat-free Body Weight, Subcutaneous Fat, Visceral Fat, Muscle Mass, Bone mass, Protein, Metabolic Age, Body score, Lean body mass
Warm tips for using the Tenswall Body Fat Scale:

1.Download Tenswall Fit app and enter necessary information.
2.Place the scale on a hard, flat surface.
3.Step on the scale's 4 electrodes with dry, bare feet and connect the scale with Tesnwall Fit via Bluetooth.
4.Keep standing on the scale for 5-10 seconds until your final weight measurement appears on the Tenswall Fit.
One scale, Unlimited users
Support unlimited member profiles, seamlessly track multiple family users, and help create a truly smart and healthy lifestyle.
Connect with Bluetooth
Sync your smart scale to your smartphone with Bluetooth.
Specifications:
Measurement Units:lb/ kg/ st
Maximum weight: 182.0kg d ± 0.1kg/ 401.2lb d ± 0.2lb/ 28st: 9.2st d ± 0.2st
Material: Tempered Glass Platform
Power supply: 4 AAA-Batteries (1.5V * 4 = 6V)
MULTIPLE HEALTH INDICATORS: body fat percentage, BMI, skeletal muscle, Bodyweight,body water, bone mass,Visceral Fat Rate,BMR.Keep to track you and your family's health process
SMART FITNESS APP – Download App on your phone for free through Apple Store or Google Play Store, connect with the body weight scale via Bluetooth and keep track of your weight and health any time of the day. With this convenient App you can track your progress for weeks, months and years.
Easy Operate: The Simplest way to keep track you and your families fitness process: Step-on technology, Auto-off , Auto-zero, Auto-calibration; 3 steps to set up the smart App, 5 seconds to get your weight/BMI trend, measures in both lb and kg.
Package Contents: 1 x Digital Weight Scale, 1 x User Manual, 4* 1000mAh AAA batteries. Material: 5 mm tempered glass platform.
weight machine,#Body #Weight #Scale #Digital #Bathroom #Scale #Body #Composition #Monitor #Health #Analyzer #Smartphone #App #Body #Weight #Body #Fat #Water #BMI #BMR #Muscle #Mass #lbs