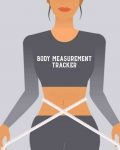 Body Measurement Tracker: Log & Write Measurements, Keep Track Of Progress Notebook, Record Weight Loss For Diet, Gift, Women & Men Journal, Book

Price:

$19.99




This Body Measurement Tracker is a perfect way to help you log your measurements. If you're into exercise & fitness & love a good daily workout at the gym, or if you're on a diet & just want to keep track of your progress & weight loss, this journal can be a great place to keep all your information in one place. Each page (worksheet) contains space to write:
Date
Chest
Left Arm
Right Arm
Waist
Hips
Left Thigh
Right Thigh
Left Calf
Right Calf
Weight
Notes – Great for writing your food intake, set goals, fat intake, plan, monitoring, emotions, how you feel, etc or whatever you wish to write.
Makes great presents for both men & women to give as a gift. If you measure weekly, there's enough spaces for over 2 years. A great way to to get healthy is to be aware of your body changes as you progress towards your goal. Size is 8×10 inches, 112 pages, soft matte finish cover, white paper, paperback.


weight loss diet,#Body #Measurement #Tracker #Log #Write #Measurements #Track #Progress #Notebook #Record #Weight #Loss #Diet #Gift #Women #Men #Journal #Book