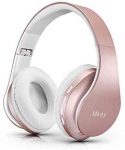 Bluetooth Headphones Wireless,MKay Girls Over Ear Headset V5.0 with Microphone, Foldable & Lightweight, Support Tf Card MP3 Mode and Fm Radio for Cellphones Laptop TV-Rose Gold

Price: $25.99 - $23.99


Product Description
Pretty and lovely color, fashion and comfortable over ear oval-shaped design,super stereo sound quality,Bluetooth/MP3/FM Radio modes, this MKay bluetooth headphones will be your perfect gift choice for your kids, girls,women, children, family, lovers and friends in any special holiday or birthday.
GREAT COMFORT FOR ALL AGES:These wireless cordless headphones can be used by all ages – Unisex Kids, Teens and Adults. They are perfect for Travel, Sport and Every day use!
Highlights for Our MKay Bluetooth Headphones Wireless:
1. Latest bluetooth version V5.0 makes more quickly and stable connection.
2. 500mAh Long battery life up to 18 hours music time.
3. Charing full only in 2.5 hours.
4. Oval-shaped earpieces are more comfortable than the small round or heart-shaped ones in the market.
MKay Wireless Headphones Specification:
Bluetooth Version: 5.0
Range: 33 feet (10 meters)
Talking Time: Around 25 hours
Music Time: Around 18 hours
Charging Time: 2.5 hours
Charging Voltage: 5V
Battery Capacity: 500mAhv
TF Card:2G-32G(not included in the package)
Superior Stereo Sound Quality and Built to Stay Comfortable

Precise guitars, clear vocals, clean bass and crisp percussion. Superior stereo sound quality that brings out the best in your music—including subtle details you may never have noticed.
This rose gold bluetooth headphones are equipped with soft oval-shaped over ear cushions, which not only make it much more durability and comfort, but also make customers enjoy this high-quality, Long-listen feast. And the skin texture, lightweight comfortable around-ear fit you can wear all day long. The strechable headband allows you to find the perfect fit and provide excellent durability.
Gentle Reminder: please take off the headphones every 2-3 hours to get your ears relax.
Multi-Functions/Control on Your Wireless Headphones Bluetooth

MKay bluetooth headphones have several options for listening enjoyment. Built in FM radio and you can use a 2G-32G TF/Micro SD card with loaded MP3 music and listen to the songs directly on your headphones.
You can play/pause, adjust the volume and change the track directly on the over ear headphones in the bluetooth mode, no need to take out your mobile phones or other bluetooth devices. Please note that the microphone only works in wireless bluetooth mode not wired mode.
Foldable and Portable Design
The foldable design and portable pink carrying case makes it easy to store them when not in use or during travels.
Dual mode: Wireless & Wired/Advanced Compatibility/Nice Gift for Your Kids

Dual mode: Wireless & Wired
In the bluetooth wireless mode: answer phone call support, free your hands from phones by using this codeless mode.
In the wired mode: Used as a wired over-ear headphones with an 3.5mm audio cable, still enjoy music when the headphones have no any battery.
Advanced Compatibility
The headphones bluetooth can easily and quickly connect with smartphones, iPhone, iPad, Air, mini, Samsung Galaxy, Huawei phones, laptops, computers, TV (a Separate Bluetooth adapter needed)and other bluetooth devices within 33 feets(open space no any block), bringing you crystal clear sound effect.
Nice Gift for Your Kids
Our MKay wireless bluetooth headphones can be used by all ages, especially for kids,teenages, young girls and women. They can enjoy high quality music, watching videos movies cartoons, study online or learning piano guitar etc. freely and comfortably with these over ear headphones.
LONG BATTERY LIFE & DUAL MODE: 500mAh battery,18 hours of music time,2.5 hours fast charing. Whether you are watching TV, gaming or using your phone this over ear bluetooth headphones wireless can be used as wired headphones without battery consumption using the 3.5mm cable. Built in FM radio and also you can use a 2G-32G TF card(not included in the package) with loaded MP3 music to listen to songs directly.
SUPERIOR STEREO SOUND: Experience superb music and voice clarity. Bluetooth Version 5.0 can make the wireless headphones connecting fast and stable. Advanced compatiable for with iPhone, iPad, Air, Mini, Samsung Galaxy, Huawei Phones, laptops, computers, TV and many other Bluetooth enabled devices. Perfect headset for audio lovers, make them completely immersed in the music world. Kindly notice: No Microphone in wired mode.
COMFORTABLE & SUPER LIGHT: These over ear bluetooth headphones come with oval-shaped not small round soft pads and adjustable headband providing lasting comfort. Best wireless bluetooth cordless solution for long term gaming or tv(a SEPARATE Bluetooth adapter needed) use, over ear headsets are superior to using in ear bluetooth earbuds or earphones
FOLDABLE DESIGN WITH A PORTABLE CASE:The foldable headband is designed not only for saving space but also for portable to carry in the provided pink case when travelling or work out. Auto-reconnect to your bluetooth headset easily and instantly. Buy one for yourself and an extra set for a tv, music lover, traveller or gamer you know today
best headphone for mobile,#Bluetooth #Headphones #WirelessMKay #Girls #Ear #Headset #V50 #Microphone #Foldable #Lightweight #Support #Card #MP3 #Mode #Radio #Cellphones #Laptop #TVRose #Gold