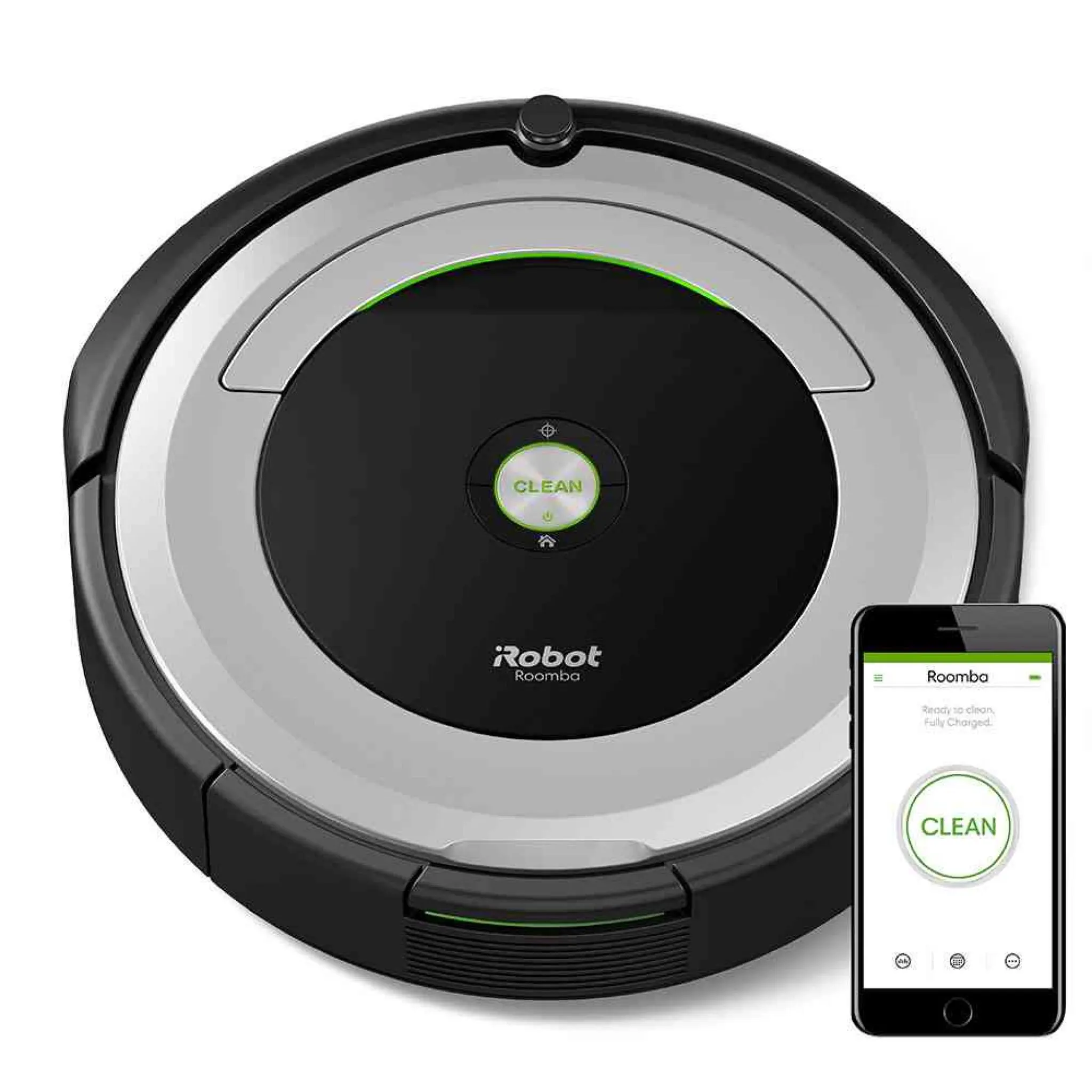 iRobot Vacuum Cleaner Roomba 690 Review
The iRobot Roomba 690 Robot Vacuum is a remarkably automated iRobot vacuum cleaner that has received huge praise from the majority of customers/users due to its outstanding technological use, highly efficient performance, and the best value for its price.
Cleaning your home and floors when you are busy is a time consuming as well as a tiresome process. Having your home cleaned automatically while you are at work or just relaxing in one of the fine sides that technology has to offer. The possibility of doing so has been brought to our reach by iRobot's Roomba line. This line includes automated Vacuum cleaners that can be connected and operated through a wireless connection.
iRobot Roomba 690 Robot Vacuum-Wi-Fi Connectivity, Works with Alexa, Good for Pet Hair, Carpets, Hard Floors, Self-Charging
The iRobot Roomba 690 automated iRobot vacuum cleaner has been not only upgraded with Wi-Fi, Amazon Alexa/Google Assistant support but also includes creative integrations through IFTTT recipes. Due to all these smartphone protocols, this automated vacuum cleaner is much smarter than the automated vacuums of the previous generations.
The following are the highlighted product specifications of the iRobot Roomba 690 Robot Vacuum.
Brand: iRobot
Product Type: Cleaning the appliance
Connection type: Wireless connection
Wireless protocol: Wi-Fi
IFTTT compatibility: IFTTT compatible
Compatibility with voice assistance: Amazon, Google voice, and Alexa
Surfaces: Carpets, hardwood floors, and like surfaces
Cleaning system: 3 stage cleaning system
Technology: Dirt detect technology/sensors
Recharge system: Automatic recharge
Battery cell type: Lithium-ion

Detailed specifications
Suction power: The iRobot Roomba 690 Vacuum cleaner is equipped with a 3-stage cleaning system. While it has the main suction and rotating brush absorb all the dust and dirt, it is also equipped with a side to brush effectively brushes the dust and dirt off the corners and edges. Its 33-watt motor delivers a pretty good motor strength suitable for household surfaces. Its suction power is perfect for hardwood flooring and low-pile carpets.
Battery life: The iRobot Roomba 690 has very decent battery life. It is equipped with a 2100 mAh lithium-ion battery. The battery requires an initial charging of 3 hours before you start using it. Once the battery is depleted, it can be charged to full within 3 hours. It has an automated charging system. This means that after delivering its capacity of 60 minutes cleaning on a full charge, it automatically makes its way to the charging station. This is one of the most convenient features that allows hassle-free self-charging
Dust Capacity: Equipped with a mammoth 20 oz (600 ml) dust tank, the iRobot Roomba 690 can with no trouble store 2 to 3 days' worth of dirt and rubble. This is one of the main highlighted features that makes this vacuum cleaner worth its buy. The larger dust tank capacity also makes it the best option for households with larger families and furry pets. Additionally, you can easily clear the dust tank by simply pressing a button, sliding the bin out of the unit, and emptying it in the trash.
Weight and dimensions: The iRobot Roomba 690 is 7.8lbs i.e. 3.5 kg in weight. It is a pretty standard weight for an automated vacuum cleaner. It has a circular body like most automated vacuum cleaners with a diameter of 13 inches. Being slightly smaller than the 650 models, it allows more maneuverability and access around the nooks and crannies. The unit stands 3.7 inches above the ground.
Accessories: To our convenience, the iRobot comes with all equipment and accessories needed to set the vacuum to work. iRobot even gives you an extra filter and a pair of AA batteries in order to power the virtual wall barriers. The cleaning tool that comes with the purchase is very convenient in cleaning the rotating brush. This model also comes with virtual wall barriers that allow you to barricade off areas with much ease.
iRobot Roomba 690 Robot Vacuum-Wi-Fi Connectivity, Works with Alexa, Good for Pet Hair, Carpets, Hard Floors, Self-Charging
Reasons why iRobot Roomba 690 is a smart choice.
The iRobot vacuum cleaner gives us the comfort of having a clean house without taking our time and effort to do so. It allows effective cleaning without the hassle of manually charging the device or even manually running the vacuum. Following are some highlights that various customers have attested to proving this automated vacuum cleaner to be one of the best values for its price.
Great performance: The original, patented 3-Stage Cleaning technology uses Dual Multi-Surface Brushes, a specially designed Edge-Sweeping brush, and vacuum suction to absorb in particles off of carpets and hardwood floors ranging from small particles to larger debris. The brushes work together to grab dust, dirt, and largely remains to help meticulously clean your floors. The first brush loosens, lifts, and pulls in dust, dirt, and hair from floors and in carpet, the second rush debris into the suction channel.
App-Based Control – The 690/694 are the only 600 series models of the iRobot vacuum cleaners that are compatible with the iRobot Home app. This allows anyone to schedule, start, or even stop a cleaning session. You can even get cleaning updates on your smartphone. Using the app, you can schedule, start, or stop a cleaning session and get cleaning updates on your smartphone when you are outside.
Battery life and self-charging system: The iRobot vacuum cleaner has a cleaning battery duration of 60 minutes. After that, it automatically returns to the home base/charging station when the battery is running low. This is super convenient as owners don't have to worry about the battery dying out or the hassle of charging it time and again.
Dirt Detect Technology: The patented dirt sensors of this appliance allow it to detect more difficult areas with more dirt providing a better cleaning experience.
Won't fall down stairs: Cliff Detect sensors installed in the system prevent the robot from falling down stairs or certain heights
Warranty: Much like most robot vacs, the iRobot Roomba 690 comes with a 12-month limited warranty. Perishable parts such as filters and brushes are not covered under the warranty. If you buy from Amazon or Gear Best, you shouldn't worry – you can enjoy their great warranty/return policy.
iRobot Roomba 690 Robot Vacuum-Wi-Fi Connectivity, Works with Alexa, Good for Pet Hair, Carpets, Hard Floors, Self-Charging
Related Links:
Xiaomi Dreame V10 22KPa Suction Cordless Stick Vacuum Cleaner (EU Plug)