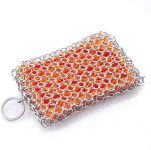 B&L The Original Cast Iron Scrubber & Cleaner Chainmail Scrubber with Silicone Insert Life Time Warranty

Price: $16.99 - $14.99


Product Description
Made From 316 Stainless steel and food safe silicone.
Removable silicone for easy cleaning
Protects your seasoning
Handmade chain mail are made from 316 stainless steel wires with Food product silicone insert for durability and hygiene. We Designed our Scrubber with silicone for easy cleaning if it's needed . Our product is dish washer safe. It is not recommended to be used on Teflon coated skillets. Silicone insert helps to reduce the chance of scratching your skillet. If only chains is used, fingers can cause high pressure point which can put uneven pressure on the surface.
Two piece design for easy cleaning
Can Be used with a sponge
Designed flexible to reduce hand fatigue
home gadgets,#Original #Cast #Iron #Scrubber #Cleaner #Chainmail #Scrubber #Silicone #Insert #Life #Time #Warranty