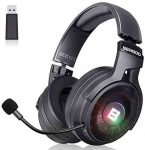 BENGOO 2.4G Wireless Gaming Headset Headphones with Microphone for PS4 PC, USB RGB Over-Ear Noise Cancelling Headphones with 7.1 Surround Deep Bass, Retractable Mic, Memory Earmuffs, 17 Hours Playtime

Price:

$75.99




Product Description
Package Contents & Instruction
1* BENGOO TA80 wireless gaming headset1* 2.4G Wireless Adapter1* USB Charge Cable 1* Headset Buggy Bag1* Operating Instruction
BENGOO TA80 2.4G Wireless Gaming Headphones

Compatible with PC, PS4, Nintendo, Mac
BENG0O wireless headset with microphone, provides freedom from cords with its solid 2.4GHz gaming-grade wireless connection and 17+ hours battery life. Equipped with a 50mm high precision neodymium drivers and soft leatherette ear cups, which offers a particularly immersive sound quality, delivers you an extreme gaming experience and greatly highlight your gaming atmosphere. Born for every FPS!
7.1 Surround Sound Customized
15° Self-adjusting Headband
90° Rotaing Ear Cups
Stay Cool Under Pressure
Fantastic RGB Light
720° Retractable Microphone
Noise Isolating Microphone
Multi-platform Compatibility
2.4GHz wireless headphones
BENGOO wireless 7.1 surround sound headphones provides freedom from cords with its 2.4GHz wireless connection. Creats a unique talk zone, making sure the other nearby voices are filtered out and enhances your gaming experience.
On-ear Volume and Mute Controls
The volume control knob and microphone mute button make on-the-fly adjustments without distracting you from your games. You can easily adjust the mic and the volume anytime and anywhere.
90° Rotaing Ear Cups
With breathable sports ear cushions, you can be completely immersed in your virtual evironmert comfortably. The 90 degree angle earcups can better fit around your neck, so that you can play in comfort for hours.
Cooling Gel-Infused Cushions
The superior foam ear pads are infused with cooling gel to reduce hearing impairment and heat sweat that you can stay frosty while gaming or chatting.
Glowing RGB LED Lights
The RGB light will turn on when the headset is working. (Hold down the power button for 3 seconds until you hear a beep. ) The RGB LED light highlight the atmosphere of the whole game.
Retractable Microphone
BENGOO wireless headsets with retractable mic not only could capture your voice and remote the ambient noise, but also can be retract into the headset while you don't need to use it.
Glasses Friendly Design
The headband slider not only can be adjusted to fit different sizes, but also removes pressure on glasses, provides greater flexibility and durability while being twisted and bent.
Super Durable Headband
The built-in steel headband make the earphones difficult to deform and can be put into the bag to carry around. Pillow-soft memory foam assures you could stay the extreme comfort even a long-time wearing.
720° Noise Reduction Mic
720°detachable and flexible microphone could better pick up your sound all round way. The built-in noise reduction chip could pick up clearly sounds with great sensitivity, and transfer the high quality voice while you are gaming or chatting.
【2.4GHZ Wireless Connection】Bengoo wireless headphone could be perfectly compatible with multiple devices such as PC, PS4, Nintendo and Mac. Gaming-grade 2.4GHz wireless connection via USB dongle with a range of up to 20 meters that can be enjoyed uninterrupted for up to 17 hours.
【Custom 50MM Driver & Virtual 7.1】 Bengoo wireless headset has extra virtual 7.1 bass and superior sound quality. It allows you to immerse yourself in any game regardless of the genre, creates a unique talk zone, making sure you are heard the nearby voices in games.
【Retractable Microphone & Easy-acccess Controls】The flexible microphone not only can rotate in all the way around that you can get it at a prefect distance from your mouth, but also can retract inside the headset while you don't use it. The one key mute and volume control on the earphones make it easily adjust volume or mute microphone when you are in games.
【90° Rotating Ear Cup & RGB Lighting Effects】The 90° rotating ear cups with bold styling that rotate for additional comfort when being worn around your neck. The built-in steel headband make it more durable and easy storage to carry around. The earcups were designed with the stylish RGB light, which can highlight the atmosphere of the whole game and offer you an awesome eye-catching appearance.
【Long Battery Life & All Day Comfort】The wireless USB headphones with mic have 17 hours of headset usage time, and it can standby more than 100 hours. It can be used for work during the day, listen to music and watch movies during rest, full-day power support. Premium quality memory foam earcups with adjustable headband delivers exceptional comfort and reduces the ambient noise providing longevity.
wireless headphone for pc,#BENGOO #24G #Wireless #Gaming #Headset #Headphones #Microphone #PS4 #USB #RGB #OverEar #Noise #Cancelling #Headphones #Surround #Deep #Bass #Retractable #Mic #Memory #Earmuffs #Hours #Playtime