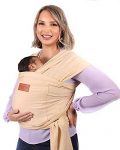 Baby Wrap Carrier with Front Pocket – Premium Cotton Baby Sling – One Size Fits All – Baby Carriers for Newborn, Infant – Soft Baby Wearing Carriers to Keeps Your Child Close for Bonding (Tan)

Price:

$23.99




Think about this, you're out and about with your baby, and they're nestled close to your chest, comfortably content, while you're moving around.
That would be the dream, right?
With the PocketWrap, that dream will be a reality.
Our infant carrier for newborns will help you form a closer bond with your baby and allow you to go handsfree while you're running errands, traveling, or just trying to keep your little angel calm.
Do you want to know something neat?
This baby carrier for men and women is the brainchild of new parents!
We are big believers in the powers of baby carrying, but many of the wraps on the market seemed inadequate.
Since there was nothing out there that checked all the boxes, we decided to design one on our own.
Through months of research, design, and testing, the PocketWrap was born.
We gave a bunch of these baby wearing wraps to our friends and family members that have young kids.
Their feedback floored us.
Glowing reviews were coming in left and right!
Here Are The Top 10 Reasons Why You'll Love It Too:
● Ergonomically positions your baby against your chest
● Comes equipped with a convenient front pocket
● Buttery soft blend of 95% cotton and 5% spandex
● Material has great stretch and is very easy to tie
● Provides excellent support for your back
● One size fits all – fits both women and men
● Machine washable (won't shrink or fray)
● Comes with easy-to-follow instructions
● Our baby carrier meets all ASTM requirements
● We're members of the Baby Carrier Industry Alliance
Ready to wrap your baby in the most functional, comfortable baby carrier on the market? Click the "Add to Cart" button above.
WHILE OTHER BRANDS DO NOT HAVE a Pocket at all, Max&So Baby carrier is designed with A WIDE FRONT POCKET (25x25cm) to make your life as a parent EASIER and HELP you STAY ORGANIZED. Having your daily baby essentiels with you, MEANS LESS TIME RUNNING AROUND looking for little things and MORE TIME to ENJOY with baby.
HAVING YOUR LITTLE ONE in the wrap carrier AGAINST YOUR HEART BEAT creates a WHOLESOME BOND which helps your little love FEEL a SENSE OF TRUST & BELONGING. It is the most natural, WOMB-LIKE POSITION and creates a PROFOND CONNECTION between you both. Even a colicky baby will be SOOTHED QUICKLY to sleep as you carry them in their soft baby wrap.
OUR MISSION is simple to bring you ENDLESS MAGICAL BONDING moments with your little one. Our wrap baby carrier is ONE SIZE FITS ALL and is VERY EASY TO TIE. It comes with a VERY DETAILED INSTRUCTION so that (you'll have your child tucked in the wrap in no time) its LENGHT of (500 CM) was carefully TESTED by moms and dads to ENSURE that you dont have HEAVY amount of EXCESS FABRIC the way.
GREAT WHENEVER YOU'RE OUT & ABOUT: It will ALLOW YOU to MOVE around HANDSFREE while your child is NESTLED close to your chest; Designed By Proud New Parents: OUR GOAL was to give this ancestral accessory a practical twist! We're happy to answer any questions or concerns you may have, so don't be shy about reaching out
baby gadgets,#Baby #Wrap #Carrier #Front #Pocket #Premium #Cotton #Baby #Sling #Size #Fits #Baby #Carriers #Newborn #Infant #Soft #Baby #Wearing #Carriers #Child #Close #Bonding #Tan