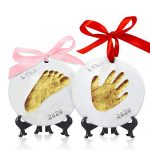 Baby Handprint Footprint Ornament Keepsake Kit – Personalized Baby Prints Ornaments for Newborn – Baby Nursery Memory Art Kit – Baby Shower Gifts, Christmas Gifts (Gold Paint)

Price:

$13.96




Product Description
Create Wonderful Moments Together!
Our mission is to inspire modern parents to build strong parent-child bonds and create wonderful moments together. We believe that through strong parent-child bonds, parents can create a loving & inspiring environment to nurture their child's full potential.
Over 1.2 Million Happy Customers Worldwide
Trusted Baby Brand by Moms & Dads
Designed For Modern Parents
Preserve the Memories, Preserve the Love

Your Trusted Keepsake Ornament for Years to Come!
As you watch your precious little one grow up day by day, how you wish time would slow down. Their little face is like an angel sent from above. You've indeed created a MIRACLE! Let these cute little feet and hands be remembered for life. Preserve those cutest little memories as much as you can with KeaBabies Ornament Keepsake Kit. Nothing is more precious than being able to reminisce about these moments again in years to come.
100% Safe for Newborns: Food-grade and high-quality lasting clay.
Quality & Modern Easel: Fits any modern home and nursery decor
Everything You Need in 1 Package: No additional materials required
Plastic O-ring Size: 4.1″ (Dia) x 0.55″ (W)
Cutest Christmas Tree Ornament

Hang your baby ornament on your Christmas tree. Comes with 5 colors of satin bows for you to mix and match. Do it for every child in the family. It will be fun and memorable for the whole family. Enjoy the wonderful family bonding moment together!
KeaBabies Tips:
Paint it with the gold paint provided to make your baby ornaments stand out!
Why Choose KeaBabies?

100% Baby-Safe and High-Quality Clay
Your baby's safety is our top priority. We ensure that each and every aspect of our product that comes into contact with your baby is 100% Baby Safe.We know that this handprint and footprint keepsake frame is going to be one of the most important memories for your family. Keeping it looking perfect and lasting for many years is important to us. Through multiple testings and research, we have come up with a product that meets stringent criteria, to give you only the best.
KeaBabies Tips:
Spread out the clay slowly. Ensure that it is wrinkle-free, to prevent cracks. Keep a small portion of clay in an air-tight container to for patching up afterwards.Leave the clay to dry for at least 4 days. Ensure that it is completely DRY before framing.
Personalize to Your Liking
Every child is unique and deserves the best. Personalizing your Handprint and Footprint Keepsake Frame Kit is a fun way to keep their childhood memories alive.
Personalization Kit Included:
Alphabet and numbers for name and date printing.Gold paint with paint brush to paint the handprint/footprint or name/date to your liking.Comes with 4 colors satin ribbons
KeaBabies Tips:
Line the name and date before working on the clay.Ensure that the clay is COMPLETELY DRY (after 4 days) before painting on it.
Wonderful Family Bonding Time
Nothing beats family bonding time, does it? Let KeaBabies be with you through this wonderful moment.
KeaBabies Tips:
Write a letter to your baby to commemorate this special moment and your hopes for their future. Attach it to the back of the ornament, giving this moment a special touch that will forever be remembered.
Parenting is AWESOME. Sleep is OVERRATED. Everyday is an ADVENTURE. Let's create wonderful moments together!
A Gift Filled With Love

Having a new bundle of joy is a celebration filled with love and joy. If you are looking for a perfect baby shower gift for your friend or family, our KeaBabies Ornament Keepsake Kit is the perfect gift! The perfect gift to capture the most precious moment.
Included:
Cute gift boxInstruction video & manual
Personalized Ornament – This Baby Handprint Ornament Kit comes with bonus gold paint, paint brush and name/date printing kit. You may design it the way you like! The plastic O-ring has a diameter of 4.1″ with a width of 0.55″.
Create Wonderful Moments – Making this Baby Nursery Ornament Keepsake Kit requires patience. We're sure these precious moments together with your little one will leave a lasting memory for you and your family. Take it slow and enjoy every cute moment while completing this Keepsake Ornament as a family!
Food-Grade Clay – Safe for your precious newborn. Your Baby Keepsake Ornament will stay in great condition even after years to come.
Cute Baby Decoration Ornament – Get creative with your home or Christmas decorations with our ornament keepsake art kit. Punch holes to hang it on walls or on your Christmas tree!
baby gadgets,#Baby #Handprint #Footprint #Ornament #Keepsake #Kit #Personalized #Baby #Prints #Ornaments #Newborn #Baby #Nursery #Memory #Art #Kit #Baby #Shower #Gifts #Christmas #Gifts #Gold #Paint