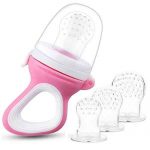 Baby Fresh Food Feeder/Fruit Feeder Pacifier- Tinabless Infant Silicone Teether Feeder, Includes 3 Different Sized Silicone Pouches for Toddlers & Kids

Price:

$9.99




Product Description
Easy To Use
Just unlatch the cap of the pacifier, open the lid, place the food inside the cover and shut the snap lock to secure.
 
Easy To Clean
The silicone is much easier to clean than it's mesh counterparts. You only have to wash with warm soapy water, or boil to sterilize!
 
Feeding Pacifier
The texture baby nipple holes do not allow chunks of food through the pacifier which could induce choking. Only the smaller, digestible pieces will come through.
 
Perfect Gift Choice
Neutral colors make this is one of the best baby gifts and infant toys. Both boys and girls will like it. Our Tinabless food feeder pacifier is a perfect baby shower gift.
 
100% Safe For Your Child

Certified and FDA approved premium food-grade silicone . We only offer products we trust and use in our own home . It's 100% safe for your infant .
Tinabless's commitment to product safety ensure that our baby food feeders are made from the highest food grade silicone that is
BPA Free
Latex Free
Petroleum Free
Lead Free
Phthalates Free
3 Different Sizes

Each fruit teether pacifier set comes with 3 different sized silicone sacs uniquely designed for 0-6 Months, 6-12 Months and more than 9 Months of age.
Each pacifier feeder is designed to fit the right amount of food in each silicone sac and allow the tiniest food particles through that are safe for your baby.
This also allows you to conveniently interchange the silicone pacifiers and insert more food as your baby grows.
 
Box Packaging
✓
✓
✓
✓
Quantity
12 Eggs
4 Packs
1 Pack
2 Packs
Brand
Tinabless
Tinabless
Tinabless
Tinabless
GOOD FOR STARTING SOLIDS – This is a delicious pacifier fruit feeder, sometime is orange, sometime is strawberry or meat. This baby food feeder pacifier can train your little one to eat by themselves.
PAIN & GUM SORENESS RELIEF – The silicone teether feeder with uniquely designed textured silicone nipple can also help soothe teething pain and provide extra stimulation to a baby's gums when teething. Try frozen fruit, ice cube or even frozen breast milk to help soothe and massage baby's gums.
THE RIGHT SIZE FOR YOUR BABY – Each set comes with 3 different sized silicone nipples uniquely designed for 0 – 6 months, 6 – 9 months and more than 9 month of age. Each silicone nipple is designed to fit the right amount of food and allow the tiniest food pieces that are safe for your baby. This also allows you to conveniently inter change the silicone pouches and insert more food as your baby grows.
100% MONEY BACK GUARANTEE –We only care about your 100% satisfaction. If you feel that these baby fresh fruit food feeder pacifier didn't live up to your expectations, let us know and we promise a 100% money back guarantee.
baby gadgets,#Baby #Fresh #Food #FeederFruit #Feeder #Pacifier #Tinabless #Infant #Silicone #Teether #Feeder #Includes #Sized #Silicone #Pouches #Toddlers #Kids