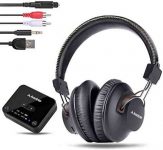 Avantree HT4189 40 Hrs Wireless Headphones for TV Watching w/Bluetooth Transmitter (Digital Optical Aux RCA Pc USB), Rechargeable Hearing Headset, Plug n Play, No Audio Delay, 100ft Wireless Range

Price:

$109.99




Product Description
Our HT4189 combines high quality Bluetooth headphones with our top-of-the-line Audikast transmitter. Whether you use the set together or with other devices, HT4189 delivers the ultimate audio experience.
Plug & Play Bluetooth Headphone and Transmitter SET (w/ optical support)
Recommended Uses:
Bluetooth-enable TV / DVD with optical, RCA or AUX audio output Bluetooth-enable PC, PS4 through USB audio outBluetooth-enable AV receiver & other audio devicesFor no audio delay, long music play time (40H) and long rangeHearing aids / assistance alternative for watching TV
Doesn't work / not recommended for:
When using the transmitter the TV internal speakers might not work or become muted. This is TV dependentDolby / DTS is not supported. When using TV optical out, MUST set audio format to PCNot for TVs with non-functional audio output ports (test before purchase)Not compatible with ANY RCA outputs on the back of AV Receivers / amplifiers
——————
Frequently Asked Questions:
Q: My TV speakers go silent (become muted) when I use the Avantree Bluetooth transmitter. Can I make them work simultaneously while using the transmitter?
A: This is a TV feature and its availability depends on your TV make and model.
For many models of TV, the built-in speakers might not work if you choose to use an external speaker. They will either automatically mute when you plug something into an audio output port (AUX, RCA, Optical, etc.) or they become disabled once you choose "External Speakers" as your TV's audio output. Some newer TVs however, allow you to play audio from both the TV's internal speakers and an external audio device simultaneously. For example the newer LG TVs with WebOS versions 3.0 and 3.5 have this feature but Samsung TVs still do not. In the LG TV WebOS 3.0 / 3.5 example, you can enable this feature by changing the TV AUDIO OUT setting from "Internal TV Speaker" to "Internal TV Speaker + Optical". Now all audio will simultaneously come from both your TV's speakers and the device connected to the digital optical audio output port.
If your TV does not support this feature, then you can consider the Avantree HT5009 / HT5006 and an external speaker. The Avantree Oasis Plus transmitter has a convenient bypass feature which allows you to share the TV audio simultaneously with an EXTERNAL SPEAKER and a pair of Bluetooth headphones.
Be Amazed by Avantree

Plug & Play
Not a techie? Not a problem! Simply turn on both the headphones (AS9S) and transmitter (Audikast plus) and they will auto connect-no pairing needed!
Magical Match
Compatible with 99% of TV's on the market, the HT4189 set supports Optical, 3.5 mm / AUX, RCA audio output as well as PC digital USB without extra wires to get in your way.
No More Delay
Featuring qualcomm chipset technology, our headset reduces audio lag to levels almost virtually undetectable by the human ear. Finally you can enjoy a high quality audio experience in perfect synchronization.
Supports Dual Link
Simply add a 2nd pair of headphones to HT4189 to share TV / movies with your family / friend.
Note: To achieve no lip sync delay, your 2nd headphone has to support FastStream Codec, you may consider Avantree NB16, AS9S, Audition, Aria which all support FastStream.
Extended Use Comfort
These over-ear wireless headphones come with super soft earpads and an easily adjustable headband providing a comfortable, customized fit. An ideal choice for extended periods of watching TV.
Note: The included headphone is the AS9S (Audio codec FastStream), NOT the Audition Pro (Audio codec aptX Low Latency).
AV Receivers & Amplifiers
The HT4189 is NOT compatible with RCA outputs on AV Receivers / amplifiers.
To use the HT4189 with an AV receiver / amplifier, ONLY use the AUX output (e.g. 6.35mm large headphone jack).
Product Specifications:

Headphone:
Model No.: BTHS-AS9S (Not Audition Pro) Supported profi­les: Headset, HFP, A2DP, AVRCPAudio codec support: FastStream, SBCOperating range: Class 2, up to 30 ft / 10mOperating time: up to 40 hours play time and 20 days standby timeDriver size: 40mm; Impedance: 32 ohm;Frequency response: 20Hz-20KHz
Transmitter:
Model No.: BTTC-418-PBT version: V5.0; Supported profi­le: A2DPAudio codec support: aptX-LL; FastStream, aptX, SBCOperating range: Class 1, up to 100ft /30m
Brand A
Wireless Technology
Bluetooth
Bluetooth
2.4G
2.4G
For smart TVs on market
√
√
√
×
Support digital audio ports
OPTICAL, 3.5mm, RCA, PC USB
OPTICAL, 3.5mm, RCA
OPTICAL, 3.5mm, RCA, 6.35mm, Coaxial
3.5mm, RCA, 6.35mm
Bypass mode – TV sound can be heard simultaneously by wired speakers & headphones
×
√
×
×
Use seperately with other bluetooth devices
√
√
×
×
Play time
≤ 40H
≤ 40H
≤ 12H
≤ 20H
Operation range
≤ 100ft / 30m
≤ 164ft / 50m
≤ 100ft / 30m
≤ 100ft / 30m
[Plug & play wireless TV headphones transmitter Set] Just turn on the Bluetooth transmitter (Audikast) and the Bluetooth headphone (AS9S) – they will connect automatically, without needing to pair.
[Wide compatibility] Compatible with 99% of TVs on the market, supports OPTICAL / AUX / RCA audio output. Also supports computer digital USB audio without needing additional cables. (NOTE: Audikast does NOT decode Dolby / DTS – only PCM)
[Flexible use] Headphones (AS9S) can be used seperately with other Bluetooth transmitting devices, e.g. cellphone, PC, TV. Transmitter (Audikast) can be used seperately with any Bluetooth receiving devices, e.g. headphones, speakers.
[No audio lag and dual link] Zero lip-sync delay – ideal for watching TV, movies, videos and gaming. Add a 2nd pair of headphones to share movies with your family. (Note: For no lip sync delay, your 2nd headphone must also support the FastStream codec.)
[Up to 100 feet range] The Audikast's Bluetooth Class I technology transmits audio signals up to 100ft. Note: Operation range is affected by physical obstructions (walls, people), wireless interference (Wi-Fi routers) and also depends on receiving device.
wireless headphone for pc,#Avantree #HT4189 #Hrs #Wireless #Headphones #Watching #wBluetooth #Transmitter #Digital #Optical #Aux #RCA #USB #Rechargeable #Hearing #Headset #Plug #Play #Audio #Delay #100ft #Wireless #Range