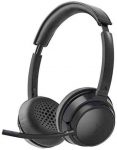 Avantree AH6B Bluetooth 5.0 Headset with Detachable Microphone, Clear Talk, Mute Function, HiFi Music, Soft Padding, 22H Talk Time, Wireless Headphones for Mac, PC, Computer, Laptop, Skype, Cell Phone

Price:

$69.99




Product Description
Our super comfortable Bluetooth 5.0 headset features an on-ear design, amazing sound and a detachable microphone for crystal clear music and calls.
Recommended:
Recommend to choose Avantree DG50/ DG60/ DG80 (Bluetooth Adapter) to use with AH6B, if your PC has a local Bluetooth issue OR want to achieve chatting and listening BGM at the same time with lag-free feature.Works with ANY Bluetooth-enabled devices e.g. phone, computer, transmitter, etc.Detachable boom microphone – perfect for crystal-clear wireless phone callsMute button on the boom mic provides fast mute access during callsUnique separate call button makes it super easy to connect to Siri or Google AssistantUltra-comfortable fit with a very light 155g weight
Doesn't work / not recommended:
Built-in microphone, detachable boom microphone and the control buttons do not work in wired modeBluetooth operation range may be affected by obstacles (concrete walls, doors, etc.) and other environmental factors
Easily conect, control music and manage calls

Enhance Voice
Equipped with a DETACHABLE flexible boom microphone. Enhance your voice with extended positioning of the microphone along with the advanced electronic design. This mic picks up your voice with greater clarity ensuring impeccable audio quality is delivered – perfect for voice chats and conference calls.
Convenient Mute Function
The detachable boom conveniently features a mute button. Press and hold until you hear the prompt to easily mute your voice during a cell phone call while putting someone on hold. Also, mute yourself so you do not interrupt a conference calls, online classes, presentations.
Easy to Use Controls
Our AH6B headset are designed with low-profile flush control buttons on the cups allowing you to have full control of the volume, skip tracks, play, and pause. Also, the skip tracks button icons are raised so you can easily feel them with your fingertips.
Designed for stereo rich sound music and crystal clear calls

Stereo Rich Sound
Featuring CSR Bluetooth technology combined with high precision-engineered 40mm stereo drivers delivering powerful and rich audio ensuring a full range of audio for your dynamic listening experience.
Up to 22hrs of Playtime
Enjoy wireless freedom to talk or listen to music continuously for up to 22 hours on a single charge. Fully recharges in about 2 hours or you can plug in the AUX cable and have constant power converting the headset into a wired connection.
Siri & Google Assistant Compatible
Whether you are asking for directions, information, enjoying music, or performing other tasks, our earphones make it easy to connect with Siri or Google Assistant with a double-click of the button.
Main Features
Designed for Stereo music and calls / Super-light
aptX-HD; Superior HD sound quality, Designed for HD music and calls
Perfect for
Home, Travel, Office (Music & Call)
Home, Travel, Office (Music & Call)
BT Version
BT 5.0
BT 5.0
Detachable Boom Mic
✓
✓
Charging Base
X
✓
aptx-HD
X
✓
aptX- LL / FS
FS – 40ms Lag-Free (ONLY compatible with Avantree BT transmitter)
aptX-LL – 40ms No Audio Delay (Please use with an aptX-LL certified transmitter)
aptX
X
✓
Driver Size
40mm
40mm
Foldable
Fold-flat
Fold-flat
[SUPERIOR AUDIO, EXTENDED PLAY] Precision-engineered 40mm stereo drivers deliver powerful and rich audio ensuring a smooth and dynamic listening experience – great for both Music & Calls. Enjoy up to 22 hours of playtime in Bluetooth mode, or use the included audio cable to switch to wired mode without draining battery.
[CONVERSE CLEARLY] Equipped with a DETACHABLE omnidirectional boom microphone. Advanced structural and electronic design allows this mic to pick up your voice with greater clarity and ensures impeccable audio quality is delivered – perfect for wireless conference calls.
[INTUITIVE CONTROLS] Whether you're activating Siri / Google Assistant for voice commands or skipping tracks and adjusting the volume for your music, our user-friendly design features a dedicated voice assistant button, music controls and volume wheel for your convenience.
[SOLID, COMFORTABLE & CONVENIENT] Designed with your comfort in mind, our headset features ultra light, super soft protein leather earpads & an adjustable headband for all day wear. Ideal for those long conference calls.
[24M & LIFE-TIME SUPPORT] Manufacturer-backed 24 month upon product registration. Video User Guide & FAQ available on website. Life Time Technical Support with 8hr- response via Email, Live Chat, Phone Call Booking, etc.
wireless headphone for pc,#Avantree #AH6B #Bluetooth #Headset #Detachable #Microphone #Clear #Talk #Mute #Function #HiFi #Music #Soft #Padding #22H #Talk #Time #Wireless #Headphones #Mac #Computer #Laptop #Skype #Cell #Phone