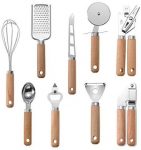 ArteiWo Stainless Steel Kitchen Gadgets, 9 Pieces Cooking Tools Set for Household & Professional Home Kitchen-Brown

Price:

$29.99




Product Description
As a professional manufacturer of stainless steel kitchenware, we are committed to making durable tools for every kitchen.
In terms of material selection and ergonomic design, we always choose the best.
This kitchen cooking utensils set is a practical set carefully designed by us, they cover every corner of the kitchen work.
Kitchen cooking tool set specifications:

Material: stainless steel
Handle: wood, PP (choose one of two)
Quantity: 9
Package list:
Pizza cutter x 1 , Garlic press x 1, Whisk x 1
Corkscrew x 1 , Cheese knife x 1, Peeler x 1
Cheese grater x 1, Can opener x 1, Ice scream scoop x 1
Why choose them?
– This is a complete set of kitchen cookware, which saves you the time to find them everywhere.
– High-quality stainless steel cooking utensils is durable, rust and corrosion resistant. The non-slip handle makes you feel more at ease when using it.
– Kitchen cooking utensils set can be washed with water, its dishwasher safe.
– Each kitchen tool has a hole easy for hanging.
【9 KITCHEN ESSENTIAL TOOLS】 9 useful kitchen tools include: Cheese grater x 1;Pizza cutter x 1; Corkscrew x 1; Peeler x 1 ;Garlic press x 1; Cheese knife x 1; Whisk x 1;Can opener x 1; Ice scream scoop x 1.
【EASY TO CLEAN & STORE】 This set of kitchen tool is easy to clean, just place it in the dishwasher or rinse it in water. It is hangeable and easy to storage in a drawer.
【PERFECE GIFT】 Stainless steel kitchenware set is an essential tool in every kitchen. This kitchen set is a good option as a gift item to moms or grandmas for their everyday kitchen use.
【HIGH QUALITY MATERIALS】 The kitchen tool set is made of high-quality stainless steel, strong and corrosion-resistant. The handles of the cookware are made of wood or PP material (optional). They all have a shape suitable for grasping and good anti-slip properties.
【CUSTOMERS SERVICE】 We are confident in the quality of this set of 9 kitchen cooking utensils tools. If you have any questions about this product, please contact us vis Amazon email, we will surely give you a satisfactory reply. Please check the size before you buy it.
home gadgets,#ArteiWo #Stainless #Steel #Kitchen #Gadgets #Pieces #Cooking #Tools #Set #Household #Professional #Home #KitchenBrown