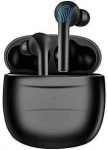 Ariperd Wireless Earbuds Wireless Headphones Bluetooth Earbuds Bluetooth Earphones, Bluetooth 5.0 Deep Bass Touch Control Waterproof CVC8.0 TWS Stereo in-Ear Headphones with Charging Case

Price:

$25.99




Product Description
Easy pairing in three steps

1.Bluetooth earphones pairing method automatically turn on the earhpones when you remove it from the charging compartment red and blue lights flash alternately to enter pairing state.
2.Search for bluetooth devices turn on your phone and search for Bluetooth devices(J3)
3.After the device is found, pairing can be achievedcall and music functions. After pairing, the power of the headset and the charging box will be displayed on the phone.
After the first time successfully connect, if you use the earphones next time, the earphones can be connect you phone automatically.
Bluetooth Earphone Specifications:
Connection method: Bluetooth
Headphone shape: wirelss earbuds in ear
Receiving Distance: 10 meters
Music Playing Time: 3-4 hours
Battery specification: 3.7V / 50mAh
Charging box battery: 400 mAh
One Button Operation
Just touch the earbuds to operate answer the phone and hang up the phone, wake up Siri, music play/pause, music up and down tracking, volume up/down.
Comfortable/Stable Wearing
Lighter(only 4g) and ergonomic design to ensure your half in-Ear earbuds fit comfortably to your ears.
Bluetooth 5.0
Bluetooth wireless headphones is equipped with the latest Bluetooth 5.0 technology, and can provide about 4 times the communication range of the conventional one, and the connection stability is further improved.
HiFi Stereo Sound
Replay Deep well balanced bass and penetrating treble with barely latency you would never noticed. Deliver Hi-fi sound quality, achieving the sound of the immersive music scene surround sound.
♪♫【One-step Paring Technology】:Open the box, you can seamlessly pair the wireless earbuds to your Bluetooth devices automatically without any problem. You don't need any skills to use Bluetooth earbuds. In a couple of seconds, you will be in your euphonic music world.
♪♫【Breathtaking Music Quality】: The unique stereo sound quality and design gives you the perfect sound, and you can feel the more realistic music. Crystal clarity and deep, resonant bass with delicately tuned sound signature deliver immersive sound and put you on the stage center. Also combined its CVC 8. 0 noise reduction functionality, you'll experience a whole new world of crystal-clear phone calls.
♪♫【Convenient Touch Control&Lasting Full Day Playtime】: Effortlessly manage audio playback & calls with the multi-function touch panel and microphone on each earbud. The earbuds can even be used alone like a Bluetooth headset. The battery case allows this true TWS wireless earphones to be fully charged up to approximately six times, up to 4.5 hours' playtime on a single charge. Ideal for everyday sport, workout and even traveling around the world.
♪♫【Comfortable Design &Worry-Free After-Sale Service】: Our wireless earbuds use the ergonomically designed with gel-flexible silicone earcaps to ensure your In-Ear Headphones fit comfortably to the ears. You can get 24-hour after-sales customer service. We are always dedicated to provide good quality products and service, if you are not satisfied with these sports headphones for any reason, contact us anytime we will always be here to help you. PLease rest assured to buy.
headphones,#Ariperd #Wireless #Earbuds #Wireless #Headphones #Bluetooth #Earbuds #Bluetooth #Earphones #Bluetooth #Deep #Bass #Touch #Control #Waterproof #CVC80 #TWS #Stereo #inEar #Headphones #Charging #Case