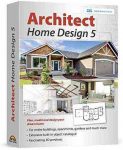 Architect Home Design 5 – Plan, model and design your dream home and landscape for Windows 10, 8.1, 7

Price:

$29.99




Product Description
Plan, model and design your dream home!

Architect Home Design 5 is a high-quality 3D construction software that covers planning, design and decoration. The program includes everything from doors, windows, balconies and carports to sanitary and electrical installations including photovoltaic elements.
Some of the highlights:
Design, furnish and visualize your dream home, extension or redecorationOver 380 new symbols for electrical, gas, water and security appliancesComplex calculations? Let the program do it for you!Move freely through your future home in a virtual 3D tour including a realistic light and shadow simulationSupports SketchUp and Collada imports for detailed furnishings
System requirements:
Windows 10, 8 or 7 (32/63 Bit)
Internet connection for product activation
Full administrative rights
This is a full version for 3 users
A huge range of ready-to-use objects for perfect furnishing results!

Home Design 5 supports loading, editing and saving of various new 3D object formats. This gives you access to millions of 3D objects! Simply import them and add them to your designs! With support for SketchUp or Collada models, you can now instantly use numerous generic and brand-specific models.
Layout furniture and decorations perfectly in advance and take a virtual tour. It's the easiest way to avoid nasty surprises and disappointment. Everything fits in harmonically. Thanks to a large selection of furniture, decorative elements and plants, you can give free reign to your creativity.
The phenomenal 3D view allows you to take a virtual tour through your buildings – long before the first stone is laid. Move freely through your future home and take advantage of the realistic light and shadow simulation to find the perfect spots for your furniture. Visualize complex building constructions and get a glimpse of the way your future projects will look like today!
We have the right solution for everyone
Perfect for personal home & garden redecorations
Suitable for anyone who expects professional results
Most comprehensive solution for designers, draftsmen and landscapers
EXTENSIVE OBJECT LIBRARY – large selection of furniture, decorative elements and plants for your remodeling and refurbishment
TAKE A VIRTUAL TOUR – move freely through your future home in a 3D view with realistic light and shadow simulations
EASY TO INSTALL AND USE – in-program tutorials and free tech support
MULTIPLE COMPUTERS – you can use this software on up to 3 different PCs (Windows 10, 8.1, 7 / 32 and 64 bits)
home design,#Architect #Home #Design #Plan #model #design #dream #home #landscape #Windows