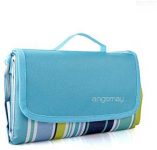 Angemay Outdoor & Picnic Blanket Extra Large Sand Proof and Waterproof Portable Beach Mat for Camping Hiking Festivals

Price:

$22.95




A must for families, this outdoor blanket is the go-to accessory for all of your outdoor activities, whether at the beach, the park or your own backyard.
Material:
Unlike flimsy, plastic backed competitors, the picnic blanket is featured with soft polyester top and waterproof backing on the underside.
Treated with Thermal composite process, the beach blanket is flatter and more tear-resistant,and very durable and comfortable to sit.
Size:
With the extra large mat, you can enjoy the leisure time with your family for lounging in parks and also on beach. It offers a great relaxation after a busy day. The outdoor mat has large extended size to provide suffucient space for several adults and toddlers.
In addtion, it is lightweight and compact. You can simply and quickly roll he blanket up and store in the boot of the car.
Washing instructions:
Top Layer: if it was just stained by drink, pls use the tissues to absorb the liquid till the surface become dry.
If the cloth was stained by other stubborn stains, pls wipe the surface back and forth by one hand slightly with warm water and mild soap, and then line dry in the air.
Bottom waterproof layer: just wipe clean with damp cloth.
Maintenance Instructions:
Clean it according to the washing instructions, keep in a cool dry place, if any smell after long time storage, hang it under sunlight will be OK.
Notes:
Before use, please make sure there is no sharp object under the blanket to prevent unexpected damage.
Product Parameters:
Material:polyester and PVC
Size: about 200 *150 cm –
Folded size: about 32*18 cm
HUGE BUT FOLDABLE- The outdoor blanket size is about 60″ * 80″(150*200cm) and can comfortably fit up to 4-6 adults, suitable for the whole family; after fold, this picnic blanket shrinks down to just 7″ * 12″ (18*32cm), great for you to carry out to travelling and camping with built-in handle.
WATERPROOF SACKING & SAND RESISTANT–This blanket is completely waterproof and sand proof. It can be used as a beach blanket, camping blanket, RV blanket, baby play mat, emergency blanket or throw blanket, it is the perfect choice for the park, the beach, sporting events, soccer games, tailgates, concerts, hiking.
DURABLE THICK AND COMFORT SKIN TOUCH-The outdoor mat is made from strong, durable, high-quality polyester and PVC , very durable and comfortable to sit. this sturdy blanket will not rip or tear no matter how much punishment it takes.
EASY TO CLEAN–Wipe the waterproof backing with a towel and shake off mulch, sand, grass, or dirt on the surface or hand washing when finishing after activities.
EXTREMELY COMPACT AND PORTABLE WHEN FOLDED: Refer to Figure 4, in seconds, this foldable blanket becomes a lightweight, easily portable tote.
baby gadgets,#Angemay #Outdoor #Picnic #Blanket #Extra #Large #Sand #Proof #Waterproof #Portable #Beach #Mat #Camping #Hiking #Festivals