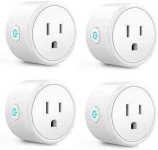 Alexa Smart Plugs – Aoycocr Mini WIFI Smart Socket Switch Works With Alexa Echo Google Home, Remote Control Smart Outlet with Timer Function, No Hub Required, ETL/FCC Listed 4 Pack Only 2.4GHz Network

Price: $32.99 - $29.99


Product Description
Smart Voice Control
Connect the Aoycocr Smart Wi-Fi Plug to Amazon Alexa for voice control. At the sound of your voice, you'll be able to turn on appliances across the room as your hands are busy, or shut the bedroom light off without getting up.
Maximum current: 10A.
Rated voltage: 120V.
Rated power: 1100W.
Input voltage: 100~240V.
APP supports operating system: Android 4.1 IOS 8.0 version and above.
Build your smart life
Aoycocr WiFi Smart Plug, high-tech intelligent life experience. No matter when and where, you can control home appliances through software, do wireless life, enjoy unlimited, start your smart life.
Share control with your family
You can program multiple devices for Group so that you can turn on/off devices at the same time; You can share devices with other families' accounts so that your families can also control the smart outlets.
Works with Amazon Alexa and Google Assistant.
Remote Control.
Voice Control.
Safe and Energy Saving.
Set Schedules or Timer.
Create Groups for Multiple Devices.
Only 2.4G network is required.
ETL/FCC/ROHS Certified.
Easy to Set Up/Installation

Set-up with Smart Life:
1.Scan the QR code in User Manual, sign up/in your Smart Life account.
2.Select "+" icon and "Electrical outlet"
3.Tap "Confirm indicator rapidly blink" and enter your home Wi-Fi Password.
4.Wait for it connecting successfully.
Compatible with Amazon Alexa(Setup with Smart Life App First):
1.Open Alexa App and search for Skill "Smart Life" and "Enable" .
2.Sign in your Smart Life account in Alexa App .
3.Tap "Done" and "Discover Devices
Make Your Home Smart

Remote Control from Everywhere
Once finished setting up Smart Life App through 2.4GHz Wi-Fi, you can wirelessly control your home devices from anywhere via 3G/4G/Wi-Fi network.With the remote access, you can check the real-time status of your device anytime and anywhere. You don't need to worry about the forgetting devices anymore after you're out.Smart Life App compatible with iOS and Android smart phone.
Set Schedule or Timer
You can use the free app (Smart Life/Tuya App) to create Timer/ Countdown for connected electronics based on your time routines. The users will control their decoration lights via timer functions after connecting these wireless plugs.Scheduling also helps lower your electricity bill by keeping power-hungry devices off when they you are not needed.
Works well with Amazon Alexa and Google Assistant
Compatible with Amazon Alexa/Google Home.Control your home electrics and appliances via a voice to Amazon Alexa or Google home,it will automatically turn on/off,make your life samrt and easier.
Manual Remote Control : Plug the home equipment into mini smart plug, download the free app, Smart Life, then control your home appliances from your phone . Wi-Fi enabled, No hub or subscription required.
Voice Control : Compatible with Amazon Echo, Google Home Assistant, Control your home appliances with the wifi plug by giving voice command to Amazon Alexa or Google Assistant, it will automatically turn on/off.
Schedule Setting : Create customized timer to automatically turn on or off your home electronics and appliances. Allow you to prevent power-hungry devices from being left on longer than needed. It will make your life easier and smarter.
Create Group & Share to All : Set a group for all Wi-Fi Smart Plugs and control them in one command. Share your smart plug to all family members in a minute. No more worries, everyone can control it easily.
Quality Assurance : We guarantee the quality of all Aoycocr's products. We also provide after-sales support online. If have problem, please contact us via [email protected] our support email.
home appliances,#Alexa #Smart #Plugs #Aoycocr #Mini #WIFI #Smart #Socket #Switch #Works #Alexa #Echo #Google #Home #Remote #Control #Smart #Outlet #Timer #Function #Hub #Required #ETLFCC #Listed #Pack #24GHz #Network