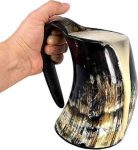 AleHorn – Viking Drinking Horn – Large Tankard – Handcrafted Beer Cup for Ale, Mead – Food Safe – Medieval Style Mug

Price:

$44.99




Product Description
High Quality Artisan Drinking Horns for the Modern Drinker

Our tankards, horns, and accessories are the highest craftsmanship available. We double seal each piece with food safe sealant, and check each piece for defects before packaging it carefully in a cotton carrying pouch, which is our gift to you as a thanks for your purchase.
We love that our horns can be used at any event, from lavish Viking wedding to intimate Game of Thrones watch party. To drink from a horn is to tap into our ancient traditions – beer just tastes better when you're channeling your inner Viking.
All of our carefully crafted horns are made in the exact same way they've always been – by hand. The only difference is that we've opted to use modern food safe sealant to make sure your horn lasts and doesn't leak, even with heavy use.
We take pride in being able to call our horns "ethically sourced." We are just as concerned with animal cruelty as you are, so we've made sure our horns come from a farm that raises the oxen for their meat, and not for their horns or other parts. All of our horns are from a family farm that also specialized in horncrafting.
How to care for your horn
We encourage you to drink anything from your tankard or Viking horn that's room temp or colder, even if it's acidic. For hot beverages, we recommend using our new coffee horn, which was made specifically to handle heat. For normal horns, heat isn't recommended as it can cause horn to warp or crack. Because all horns have their limits in terms of heat, we recommend hand washing only.
After careful consideration, we selected resin bases for our horns. The reason for this is that resin will not warp, expand or contract with pressure or temperature changes like wood sometimes does. After extensive testing of all available base material, we've selected the base that we feel provides the best protection from leakage. However, if you do end up receiving a horn that doesn't meet your standards, or if your horn develops a leak down the line, reach out and we'll replace it right away, no questions asked. Sometimes horns spring leaks in transit due to their sensitive organic nature, but we back our products and want you to love your horn.
All of our staff and regular customers can't wait to offer you a hearty SKAL!
A Horn for Every Hand

We believe that beer, mead, and even water taste better in a bada*s horn, so we've made a ton of different sizes to suit every drinker. Each horn is ethically sourced and made by hand.
Before crafting each horn, our hornmaker carefully chooses only the best horns to use to create your mug. Every single horn is different with its own unique story and character, but the thing that unites them all is our insistence on high quality every step of the way, which is backed by our stellar team, just in case. You can have full confidence in us to create a horn for your special day, or your every day.
Have a question? Just message!
home gadgets,#AleHorn #Viking #Drinking #Horn #Large #Tankard #Handcrafted #Beer #Cup #Ale #Mead #Food #Safe #Medieval #Style #Mug