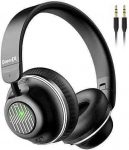 Active Noise Cancelling Headphones-SuperEQ S2 Bluetooth On Ear Headphones with CVC 8.0 Mic, Deep Bass, 25H Playtime, 40mm Drivers, Memory Foam Ear Cups for Travel Online Class Office (Black)

Price:

$39.99




Product Description
SuperEQ S2 ON EAR ACTIVE NOISE CANCELLING HEADPHONES

SuperEQ S2 on-ear headphones are a great middle-ground option between over-ear headphones and diminutive earbuds.
The name on-ear comes from the fact that their cushions sit on, rather than over, your ears. This means they're more compact and can travel with you without taking up lots of space in your bag.
If you travel a lot, commute, and like to listen to music and podcasts while you do or you're a home listener who needs just a bit of noise cancelation without the bulk of over-ears. The SuperEQ S2 on-ear active noise cancelling headphones won't disappoint.
At the same time, we are designing different colors of these on-ear headphones for young people, to meet the needs of different people for different colors. Coming Soon~
Only Music. Nothing Else

Bluetooth 5.0 Mode & Wired Mode
Bluetooth 5.0 technology provides ultra-fast and stable connection within 33ft/10m. You can also use the on ear headphones as a wired headphone with provided audio 3.5mm audio cable.
Two Devices Connection
SuperEQ S2 ANC Bluetooth Headphones support two devices connection at the same time. That is a big advantage for someone who has 2 cellphones for business, they will never miss a call.
Activate the Voice Assistant
Double press the Multi-function button to reject the call or activate the Siri Voice Control function.
Technical Specifications
Using Time1: 18 hours (ANC+BT)
Using Time2: 25 hours (BT Only)
Using Time3: 45 hours (ANC Only)
Noise Reduction Depth: 20~25db
Frequency Response: 20Hz~20KHz
Blutooth Range: ≥33ft (10m)
Input: USB5.0V/360mAh
Speaker Diameters: 40mm
SuperEQ ON EAR ANC BLUETOOTH HEADPHONES

Hi-Fi Stereo Sound & Deep Bass
SuperEQ On-Ear active noise cancelling headphones built-in dual high-quality 40mm drivers for impressive HD sound quality. The powerful deep bass with extraordinary clarity for a heightened listening experience, bringing you a fantastic musical journey.
Professional On-ear Headphones
SuperEQ S2 on-ear headphones: Not only are they a joy to wear and offer up great sound reproduction, but they're also one of the lightest and most compact ANC headphones around. They're among the best on-ear headphones for traveling with.
Rotatable & Portable Design
Ergonomically-designed 90° rotatable ear cups & adjustable headband conform to your head shape for a seamless fit. You can take it on your business or travel. Please turn off ANC function to avoid power consumption if Bluetooth headphones are not in use.
JUST YOU AND YOUR MUSIC!

Exceptional Wearing Comfort
These wireless headphones come with professional protein ear pads, comfortable around-ear fit, that are lightweight, soft & wonderfully comfortable for all day wear. You can enjoy your world without noise for a long time.
Up to 25 Hours Playtime
SuperEQ on-ear Bluetooth headphones can be used for about 45 hours (ANC ONLY) and it has up to 25 hours playtime per charge at Bluetooth mode. Don't need to worry about the power shortage problem on the long travel.
Package Content & Good Service
1 x SuperEQ S2 On-Ear Active Noise Cancelling Headphone
1 x USB Charging Cable
1 x 3.5mm Audio Cable
1 x Carrying Pouch
1 x In-flight Adaptor
1 x User Manual
FAQ1: Why are my noise-cancelling headphones so bad that I can still hear people talking?

Noise canceling technology is mainly for low-frequency noise such as some car engines, airplane cabin noise, or city traffic. Please note vocal and high-frequency noise cannot be eliminated.
FAQ2: Why is the sound quality of my headphones not very good with ANC on ?

Noise cancelling technology eliminates most of the ambient noise by generating reversed sound waves, allowing us to hear more pure and undisturbed sounds, so at some level, people may feel that the sound quality is not as good as expected.
FAQ3: Why can't other hear my voice when calling?

Please use the microphone function in Bluetooth mode, the microphone function cannot be used in the wired mode.
FAQ4: Can the Headphones be connected to TV or computer?

If your TV or computer has Bluetooth, you can connect directly. If not, then you need a Bluetooth transmitter to connect.
LIGHTWEIGHT & BREATHABLE MATERIAL DESIGN: Ergonomically designed earmuffs give you a more comfortable feeling, and breathable, soft protein memory foam earpads with on-ear cups to completely cover and reduce pressure on your ears. Comes with the 90° rotatable metal stretch material is durable and lightweight, you can take it in your backpack easily. The Bluetooth headphones itself only weights 7.4oz(210g), perfect for you to carry on business or travel.
BLUETOOTH 5.0 & CVC 8.0 MICROPHONE: Wireless headphones equipped with the latest Bluetooth 5.0 technology provides ultra-fast and stable connection within 33ft / 10m. With CVC 8.0 noise-canceling microphone, SuperEQ Bluetooth on-ear headphones help for improving your call quality and suppressing external noise, which means you be heard clearly voice for other end without interference.
25-HOURS PLAYTIME & MULTI-DEVICES CONNECTION: After charging for 2 hours, SuperEQ Bluetooth wireless on-ear headphones offer immersive music for up to 25hrs (with only Bluetooth on) or 18hrs music playback (with Bluetooth & ANC on). Warm Tip: Please turn off ANC function to avoid power consumption if Bluetooth headphones are not in use. This wireless ANC headphones support to connect with 2 devices at the same time, a surprise design for someone who has 2 cellphones.
HI-FI STEREO SOUND & DEEP BASS: SuperEQ wireless active noise-canceling headphones built-in high-quality 40mm drivers for impressive HD sound quality. The powerful deep bass with extraordinary clarity for a heightened listening experience, bringing you a fantastic musical journey. This Bluetooth wireless headphones also support 3.5mm AUX wired input dual modes to meet your different usage needs.
headphones,#Active #Noise #Cancelling #HeadphonesSuperEQ #Bluetooth #Ear #Headphones #CVC #Mic #Deep #Bass #25H #Playtime #40mm #Drivers #Memory #Foam #Ear #Cups #Travel #Online #Class #Office #Black