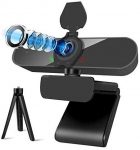 2K Streaming Webcam with Microphone, 2560P 4MP USB Computer Webcam with Privacy Shutter and Tripod Stand, Plug and Play, Desktop Laptop Computer Web PC Mac Video Calling Conferencing Recording

Price: $46.80 - $21.00


Product Description
Full HD 2560P Webcam
2560*1440P webcam records vivid and high-definition video, 1/2.9"CMOS image sensor delivers sharp and crystal clear video at a fluid 30 frames/sec, specially designed PC Webcam for quality video chatting or video recording.
USB Web Plug and Play
No additional driver or software required, just place the USB web camera gently on the PC or TV, or put it on the desk with the tripod, then hold gently fix it on the top, finally, connect the camera and TV/PC with the provided 5.9 ft USB cable. You can start to play with your video software.
Widely Compatible & Multi Application
The webcam with microphone can compatible with Android TV, Windows XP /7 / 8 / 10 computer and Mac OS; Work on different platform such as Skype, Twitter, OBS, YouTube, Facebook, Hangouts, Zoom, Twitch, etc.
2K HD USB Webcam
2K HD streaming webcam makes your vision clearer.Support 3D NR, Image and Dynamic contrast enhancement.Compatible with Windows, Android, Mac and Linux system.Support TikTok, YouTube, Niconico Live, WeChat, QQ, VooV Meeting, DingTalk, Twitch, Zoom platform, etc.Support YUYV/MJPEG/H.265/H.264 output
【USB Web Plug and Play】Works with USB 2.0/3.0, No additional drives required. Ready to use in less than 1 minute with any compatible device.The convenient foldable design allows you to easily take it anywhere, and the 4.9ft USB Cord is long enough for any task. The mounting clip can be flexibly placed on any desktop/monitor/laptop/Chromebook/PC/smart TV/tripod.
【Built-in Microphone & Noise Canceling】Webcam for video conferencing has built-in dual noise reduction microphones, which can automatically eliminate noise. Computer camera with microphone make sure the sound is clear. Even in a noisy environment, computer webcam can provide the best video conferencing experience.Great for Facetime / Video Calling / OBS / Twitch / Facebook/ YouTube/ Xbox one/ Conferencing / Gaming / Streaming / Recording / Online School.
【Webcam with Privacy Cover】PC camera webcam with microphone has a privacy protection cover. you can close laptop camera cover, which usually also protects the computer webcam from scratches, dust and grime. This camera does not have a "zoom" function. The camera without fisheye lens can restore the pictures more realistically and see more clearly.
【Widely Compatible & Multi Application】USB camera uses USB 2.0/3.0 ports and is compatible with most real-time streaming and recording software and office entertainment tools on the market. Such as YouTube, Skype, Facebook, Twitch and other software. USB plug and play, web camera with microphone very suitable for Windows system(7/8/10) and Mac OS system, computer camera with microphone support the synchronization of smart TV and other smart tools, widely used, easy to carry and use.
laptop camera,#Streaming #Webcam #Microphone #2560P #4MP #USB #Computer #Webcam #Privacy #Shutter #Tripod #Stand #Plug #Play #Desktop #Laptop #Computer #Web #Mac #Video #Calling #Conferencing #Recording