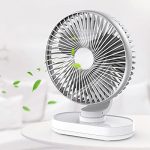 2021 Upgrade USB Oscillation Mini Desk Fan, 6.5 ''Small Quiet Table Fan with 4 Speeds, USB Rechargeable Battery Operated Personal Fan for Office Home Bed Baby Bedroom Desktop Table Gadgets

Price: $28.99 - $26.99


Product Description
Stay cool with the OCUBE USB Fan, a great option that features a four-speed motor, 90° up and down adjustment and 120° Auto rotation for superior airflow generation and incredibly quiet operation. With the stylish design, it also can be as a decor, this super-portable fan is perfect for camping, office desks, home and the baby bed. You can get over 8.5-15 hours of use in one single charge of the high-quality lithium rechargeable battery. You can plug it to any USB and Type C outlet and recharge while you use it, as well.
WHY YOU CHOSSE OCUBE USB DESK FAN?
Adjustable: This small table fan can automatically shake your head left and right 120°, and can adjust the fan head up and down 90°.
MINI Size: The portable mini fan size 8.66″*6.69″, is perfect for carry, whether it is outdoors or indoors, it has a small footprint.
High-Quality Battery: The small table fan has 4000Mah lithium rechargeable battery, You can get over 8.5-15 hours of use in one single charge.There was an error while uploading. Please try again.
Stable Stand: The bottom is adjusted according to the usb desk fan structure, standing more stable, and there will be no sway due to the adjustment has been rotated.
Small but Mighty: Mini usb fan built in high performance motor, which generate powerful wind while maintaining at a relatively low noise level.
Easy Clean: The front cover of the usb desk fan is detachable for easy cleaning of the fan blades.
Charging display: When the small table fan is working and charge, the battery indicator will be on. The lights indicate is 25%/50%/75%/100%. When it is insufficient, the first indicator will flash, please charge in time.
Humanized Design
Compact and lightweight personal fan, the fan frame uses a fine grid design to prevent finger insertion, enhance security, and can be used safely. Turn counterclockwise to remove the mesh cover for easy cleaning
Anti-Slip Rubber Base
The usb desk fan rubber base on the bottom ensures high stability and no vibration. In addition, it protects your table from being scratched. Keep the fan stands firmly on the table.
Multi Power Supplies Supported & 4 Speeds Setting
Support micro usb and type c cable to charge, you can charge the mini desk fan through a computer, laptop, mobile power, USB charger, type c charger, mobile phone adapter, car charger, power bank,etc
Package includes
1* USB Desk Fan
1 x Micro Charging Cable (without plug)
1*User manual
Specification
Battery Capcaity: 4000mAh
Maximum Power:4W
Input Voltage: 5.0/1.0A
Fan Size:16.5 x 9 x 21cm/6.5 x 3.5 x 8.3inch
Weight: 548g
2021 UPGRADE ADJUSTABLE MINI FAN : Our desk fan upgrade to can be adjusted from left to right, up and down. keep you enjoy the cool wind at each angle. You just need to press "S" and it will automatically oscillate 120 ° left and right and you can according to your needs adjust the fan head up and down 90 °.
SPEED SILENT FAN : The personal table fan has 4 wind speed levels (sleep mode/cool mode/strong mode/natural mode) You can adjust the wind speed according to your different heat dissipation needs. Our table fan has a very small voice. when it is running, the lowest decibel is less than 20db and the highest decibel is 40db.very suitable for office and baby sleeping use.
WIDELY COMPATIBLE/USB-POWERED :The mini desk fan with a USB cable, and there are two charging ports(Micro USB / Type-C ) so you can be used it with computers, laptops, power banks, wall chargers and any other USB-enabled power supply. The rechargeable battery fan provide up to 8.5 to 15 workings hours according the speed setting,because we upgraded its battery capacity of 4000mah.
Easy Clean & Carry : The portable desk fan with removable front cover is easy to remove for cleaning the fan blade. Your can keep it always clean and modern. Our fan is only 6.5″ is convenient to carry, and is easy to use. The lightweight, powerful, cordless fan cools you down anytime, anywhere when you are office, bedroom, college dorm, camping,traveling home, kitchen, hotel etc.
100% SATISFACTION GUARANTEE :Our factory has been established for 12 years, specializing in producing mini fans for sale.Our first online direct sale is to be able to receive more customer suggestions.We have a strong R&D department to make improvements according to customer needs. If you have any questions about our table fan, please don't hesitate to let us know. We will provide you with professional answers and give you the best after-sales.
home gadgets,#Upgrade #USB #Oscillation #Mini #Desk #Fan #Small #Quiet #Table #Fan #Speeds #USB #Rechargeable #Battery #Operated #Personal #Fan #Office #Home #Bed #Baby #Bedroom #Desktop #Table #Gadgets