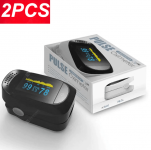 Expired
2 Pcs Digital Finger Oximeter Portable Electronic LED Display Fingertip Pulse Oximeter – Black 2 Pcs

This item will delivery 2 pcs.
DETECTION OF BLOOD OXYGEN IS VERY IMPORTANT: 
Blood oxygen saturation (SpO 2) is one of the most important basic data in clinical medicine. It is an important indicator of the body's oxygen status. It is generally believed that the normal value of blood oxygen saturation (arterial) should not be less than 94%, and below 94% is considered to be insufficient oxygen supply. Low oxygen saturation can cause dizziness, weakness and vomiting, which can endanger life.