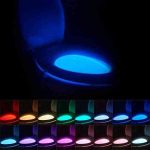 16-Color Toilet Night Light, Motion Activated Detection Bathroom Bowl Lights, Unique & Funny Birthday Gifts Idea for Dad Teen Boy Kids Men Women, Cool Fun Gadgets Gag Stocking Stuffers

Price: $15.99 - $11.78


Product Description
The only thing worse than being woken up by a bright and unrelenting overhead light during a midnight trip to the bathroom is keeping the lights off and being woken up by accidentally missing the toilet completely. If you're a man, or if you live with your husband, then you know exactly what we're talking about — accidental splashes on the bathroom floor. Whether it's your bottom becoming a little too well acquainted with your bathroom floor or the sudden feeling that someone is peeing on your slippers (hint — it's you), not having enough light for late-night bathroom trips is worse than having too much light. But there is a middle ground. – the toilet bowl light.
Glow bowl lights fit discretely on the side of a toilet bowl and are motion-activated, glowing up the bowl toilet with a bright LED light or a variety of 16 colors that can be set on a cycling model, turning your bathroom trip into a party of one. Or number two.
This Item is not only great for late-night bathroom trips, but they also turn potty time into party time for toddlers who are potty training. Children will feel comforted by the cool & funny lights inside the toilet bowl. Should be a good gift for Parents, Adults.
For an inexpensive and easy way to install a light that will make bathroom trips safe and fun (yes, we said fun), try these toilet bowl lights.
Power Source
3* AA (not included)
3* AA (not included)
3* AA (not included)
USB Rechargeable
USB Rechargeable
USB Rechargeable
Motion Detection Range
170 Degree
170 Degree
170 Degree
170 Degree
170 Degree
170 Degree
5 Stage Brightness Adjustable
✓
✓
✓
✓
✓
✓
16 LED Colors
✓
✓
✓
✓
✓
✓
Internal Memory
Low Battery Indicator
Low Battery Indicator
Low Battery Indicator
Low Battery Indicator
Low Battery Indicator
Low Battery Indicator
Item Package Quantity
2 Pack
3 Pack
4 Pack
2 Pack
3 Pack
4 Pack
16 COLORS & 170 DEGREES Radius- This motion detection toilet lights glow inside toilet bowl and make potty training fun, 16 colors that can work on a rotation or as a solid color by using the control button. 170 degrees coverage makes it detect motion a much wider angle most other toilet lights which can reach 120 degrees or lesser.
5 BRIGHTNESS LEVELS – The motion sensor toilet bowl light comes with 5 different levels of brightness control settings. It gives the toilet bowl appropriate illumination based on your choice. Controls are external facing making it easier to change the settings.
UNIQUE FUNNY GIFT – Have you ever seen a more versatile and unusual GIFT IDEA? Random mugs and other boring presents are ancient history! Whether it's your mom & dad's birthday, or a Santa gift exchange party, this novelty gag gifts will brings a smile to everybody's face and A mini midnight party in your bathroom you and your family are sure to love.
USEFUL BATHROOM ACCESSARY – Designed with a soft and flexible PVC arm that can be bent easily to attach any type toilet bowl without outlet socket, with advanced low power technology, a new set 3 AA batteries( not included ) can last up to 12 months, depending on the frequency and brightness.
home gadgets,#16Color #Toilet #Night #Light #Motion #Activated #Detection #Bathroom #Bowl #Lights #Unique #Funny #Birthday #Gifts #Idea #Dad #Teen #Boy #Kids #Men #Women #Cool #Fun #Gadgets #Gag #Stocking #Stuffers