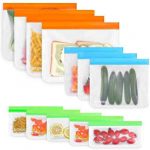 12 Pack Reusable Food Storage Bags, BPA FREE Freezer Bags Silicone Ziplock Bags (4 Reusable Gallon Bags, 3 Leakproof Sandwich Bags, 5 Thick Snack Bags) for for Meat Fruit Cereal Snacks & Organization

Price:

$13.99




SD SENDAY Reusable Storage Bags—Home Necessity for Now
Choose SD SENDAY reusable storage bags minimize your impact on the planet, they are thick and durable enough for a long time and easy to use and clean.
YOU WILL GET:
√ 4 x Reusable Gallon Bags (10.23 x 7.87 inch)
√ 3 x Reusable Sandwich Bags (8.66 x 7.08 inch)
√ 5 x Reusable Snack Bags (8.66 x 4.34 x 4.72 inch)
WHY CHOOSE SD SENDAY STORAGE BAGS?
Upgrade Double Zipper
Improved double zipper and let a child can open and close these reusable sandwich bags easily, more sealed, leak-proof and hygienic.
Easy To Clean
Just Hand Wash them in cold or room temperature water and put the bags on the top of a mug or cup to air dry.
Environment-Friendly Material
Made of food-grade PEVA, PVC-free, lead-free, chloride-free & BPA free, 100% Food-Safe, the storage bags are ideal for packing your kids lunches.
NOTE:
1. We recommend HAND WASH, not safe for dishwasher.
2. Hand wash with room temperature or cold water.
3. Don't put in the microwave or oven for heating
4. Put it on top of a mug or cup to air dry.
5. Make sure to tighten the zipper seal when use them.
Eco-Friendly Food Grade Material: Made of food-grade PEVA material, our reusable storage bags are PVC-free, lead-free, chloride-free and BPA free, an eco-friendly and recyclable material that is not harmful to the environment when disposed of or burned.
Easy To Clean And Store: Put the storage bags over the baggie holder stand/drying rack/glass to air dry (We recommend hand washes in cold or room temperature water because the dishwasher or hot water will damage the zipper of the bag.
Leakproof And Freezer Safe: Upgraded ziplock closures provide an airtight, leakproof seal in freshness. With the upgraded wide side and non-slip zipper design, make it easier to open and close the bag.
Multi-Purpose Use: The reusable gallon bags (10 inches x 8 inches) are great for marinating meats, meal prep, frozen foods, cereal, cookies, knitting materials, office supplies. The ziplock reusable sandwich bags are 8 5/8x 7 5/8 inch, and the reusable snack bags are 8 5/8 x 5 inch, are the perfect container for snacks, vegetables, fruit, baby food, cosmetics, jewelry make-up, stationery, travel and more.
What You Get: You will get an 4 big Freezer Safe Gallon Bags, 3 medium Leakproof Sandwich Bags, 5 small Thick Snack Bags. If you are not 100% satisfied with our storage bags, feel free to contact us for solutions.
home gadgets,#Pack #Reusable #Food #Storage #Bags #BPA #FREE #Freezer #Bags #Silicone #Ziplock #Bags #Reusable #Gallon #Bags #Leakproof #Sandwich #Bags #Thick #Snack #Bags #Meat #Fruit #Cereal #Snacks #Organization