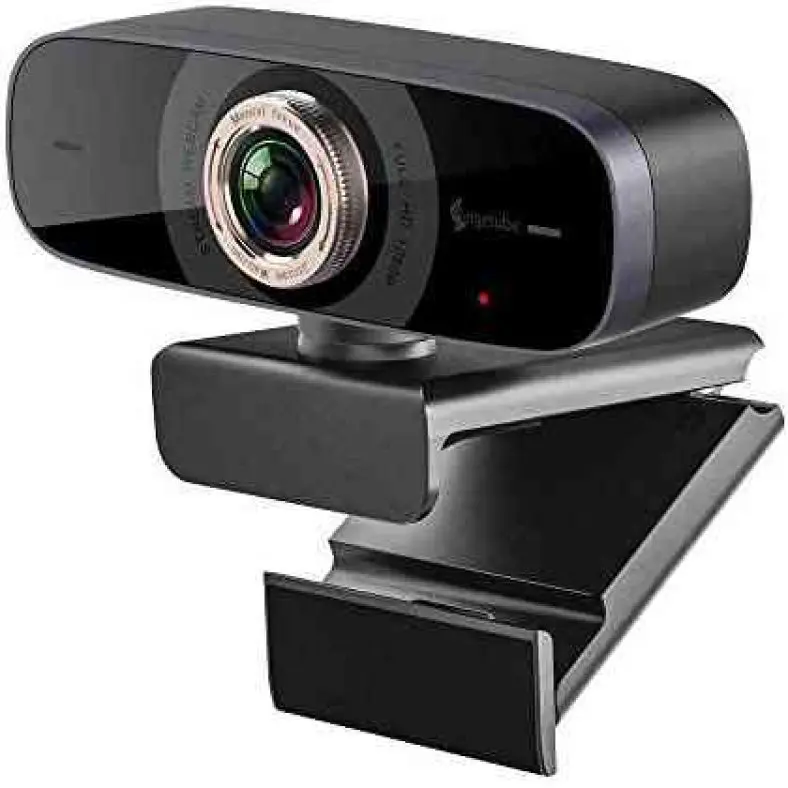 1080P Webcam with Microphone,Angetube Streaming HD Web Camera 100° Wide-Angle View Web Cam Compatible with Windows Android Ios Linux for Skype Facebook Xbox one Google Meet for Desktop Computer PC Mac

Price:

$32.99




Product Description
Angetube 825 1080p webcam With Manual PTZ Base ,You can get any angle as you need.

Angetube 825 computer camera with manual PTZ base,The webcam head can be rotated 360 degrees in the horizontal direction and 90 degrees in the vertical direction, You can adjust the viewing angles as you like. Thanks to the flexible clip,you can mount the webcam in multiple positions easily . Install it on your monitor or your desk without difficulty. With standard 1/4 inch tripod hole ready design, compatible with most tripods in market.You can use two webcams for live streaming, the one facing your face for easy interaction with your fans. As for the other webcam,you can make it 90 degrees vertically down.It shows what your hands are doing during the games. It is more convient for streamers/youtubers to show how they have their keyboard setup (keybinds) and such.
Angetube 825 1080p webcam with Microphone
About us
We are professional video products manufuature.We aim at creating an easy-to-use and high quality streaming webcam to our customer and and providing customers with best shopping experience.
Live video streaming on social website
Video chatting with families and friends
Recording HD videos and Capture photos
Online teaching and Distance Learning
Compatible with video capture card
Live games streaming
Video conference
Family Meeting
Angetube 825 stream webcam as an smart choice.

If you are Internet Reds, you can live stream videos on Facebook, YouTube with this webcam;If you are a game enthusiast, you can broadcast games on XSplit,Mixer,OBS with this web camera;If you are a friendly people, you can chat with your friends on Skype, Face Time this web cam;If you are a business man, you can make video conference with your colleagues and customers with this webcam ;If you are a teacher or a student, you can do online teaching or Distance Learning with this web camera;
With full HD 1080P webcam, now call, stream, blog and record like a pro in crystal clear video.
Built-in dual omni-directional mics with noise cancellation effectively reduces distracting background noise for natural and clear sound.
Plug and play, Quick and easy setup in 30 seconds. No drivers needed.
Register with Personify for VIP premium membership to enjoy video background change during live cast or video calling with Chromacam(Support windows10/8/7).
With Manual PTZ Base ,You can get any angle as you want. Compatible with most tripods on the market.
Angetube 825 1080p webcam with Widely Compatible ,Great for Webinars,Video Conferencing,Distant Learning,Live Streaming,Video Chat,Family Meeting etc

Driver Free,easy to use. Compatible with Windows 7, 8, 10 or later; Mac OS 10.6 or later; Google Chrome OS:V 29.0.1547.70 or later; Android Smart TV V5.0 or later; Native Linux OS 2.6.24 or later; Ubuntu V10.04 or later; Xbox One V10.0.1734.4056 or later.The camera is compatible with most popular video software to meet your different needs.Like OBS,mixer,Youtube, Facebook,XSplit, Skype,ZOOM, Google Meet ,Amazon Chime,Google Hangouts,LifeSize and FaceTime for Mac,laptop and PC.
Live Streaming on Xbox One
Webcam with 100° wide angle lens captures high definition image and video at up to 30 frames per second for a smooth, Perfect for streaming on Xbox one. (The webcam cannot works with PS4 directly. The computer need connect with video capture card firstly).
Easy Setup – Plug & Play
Designed with the standard UVC/UVA protocol USB connector so it can be used with nearly any device with a USB port. You can simply plug it to your computer by the USB 2.0 cable to make it work on your PC. Please select this webcam as the default one on the video software if your computer has a built-in camera.
Full HD 1080P webcam
Angetube 825 1080P webcam supply crisp image and crystal clear video. Enjoy razor sharp high Def in every environment. 2.0M pixels, high definition and true color images.Additionally, it has an ultra-wide 100° view angle, more things can be shown by this webcam.
Resolution
2 MP Full-HD (1920×1080)
2 MP Full-HD (1920×1080)
2 MP Full-HD (1920×1080)
2 MP Full-HD (1920×1080)
2 MP Full-HD (1920×1080)
2 MP Full-HD (1920×1080)
Video Format
MJPEG,YUY2
MJPEG,YUY2
MJPEG,YUY2
H.264,MJPEG,YUY2
H.264,MJPEG,YUY2
MJPEG,YUY2
Auto Light Correction
✓
✓
✓
✓
✓
✓
Field of View
120° Wide View
120° Wide View
100° Wide View
100° Wide View
78° Wide View
78° Wide View
Built-in Mics
5 Stars
5 Stars
5 Stars
5 Stars
5 Stars
5 Stars
Focus Type
Manual Focus
Manual Focus
Manual Focus
Manual Focus
Auto Focus
Auto Focus
Refresh Rate
60Hz
60Hz
30Hz
30Hz
30Hz
30Hz
Cable Length
4.92ft
4.92ft
4.92ft
4.92ft
4.92ft
4.92ft
Tripod
No (Sold separately)
✓
No (Sold separately)
No (Sold separately)
No (Sold separately)
No (Sold separately)
Compatibility
Windows 7/8/10,Mac OS 10.6 or above ,Google Chrome OS,Native Linux OS 2.6.24 or above,Android V5.0 or above ,XBOX, Skype, Google Meet ,Youtube, Zoom, Windows Live@Messager, Hangouts etc instant messaging applications
Windows 7/8/10,Mac OS 10.6 or above ,Google Chrome OS,Native Linux OS 2.6.24 or above,Android V5.0 or above ,XBOX, Skype, Google Meet ,Youtube, Zoom, Windows Live@Messager, Hangouts etc instant messaging applications
Windows 7/8/10,Mac OS 10.6 or above ,Google Chrome OS,Native Linux OS 2.6.24 or above,Android V5.0 or above ,XBOX, Skype, Google Meet ,Youtube, Zoom, Windows Live@Messager, Hangouts etc instant messaging applications
Windows 7/8/10,Mac OS 10.6 or above ,Google Chrome OS,Native Linux OS 2.6.24 or above,Android V5.0 or above ,XBOX, Skype, Google Meet ,Youtube, Zoom, Windows Live@Messager, Hangouts etc instant messaging applications
Windows 7/8/10,Mac OS 10.6 or above ,Google Chrome OS,Native Linux OS 2.6.24 or above,Android V5.0 or above ,XBOX, Skype, Google Meet ,Youtube, Zoom, Windows Live@Messager, Hangouts etc instant messaging applications
Windows 7/8/10,Mac OS 10.6 or above ,Google Chrome OS,Native Linux OS 2.6.24 or above,Android V5.0 or above ,XBOX, Skype, Google Meet ,Youtube, Zoom, Windows Live@Messager, Hangouts etc instant messaging applications
Webcam with Stereo Microphone: Built-in 2 dual Omni-directional mics with noise cancellation effectively reduce distracting background noise for natural and clear sound,even in a noisy environment. It feels like you're facing and talking to someone.Great for webinars, video conferencing, live streaming, etc.
Flexible Manual Focus Webcam: The computer camera with manual PTZ base,The webcam head can be rotated 360 degrees in the horizontal direction and 90 degrees in the vertical direction,you can adjust the viewing angles as you like.Install it on your monitor or your desk easily. With standard 1/4 inch tripod hole ready design, compatible with most tripods in market.
Auto Low Light Correction: Angetube 825 PC webcam equipped with automatic white balance and low-light correction functions to ensure your videos always look great no matter what the lighting is dim or harsh.You can adjust the focus ring until the image is clear base on the different distance between you and PC.
Wide Angle , Plug and play: Angetube 825 web cam equipped with a 100 degree wide angle and 6 element optical glass lens, you can cover more people during group video calls. Great for webinars and family video conferencing. There is no optical distortion, reflecting the actual shape of the photo or video.Plug and play, Quick and easy setup within 30 seconds, no drivers needed.
camera for pc,#1080P #Webcam #MicrophoneAngetube #Streaming #Web #Camera #WideAngle #View #Web #Cam #Compatible #Windows #Android #Ios #Linux #Skype #Facebook #Xbox #Google #Meet #Desktop #Computer #Mac