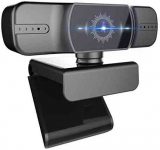 1080p Webcam, Computer Camera with Microphone, Auto Focus Web Camera for Computers, Desktop, Laptop, 90 Extended View, Suitable for Zoom, Skype, YouTube Recording

Price: $45.99 - $19.99


Product Description
1080P AUTO FOCUS WEBCAM

The webcam focuses on what matters most to game streamers and YouTube vloggers and good image quality will not let you disappointed. You don't need to spend a ton of time configuring the stream. Just plug in the Yongjoy webcam and get to work.We all know that audio is probably more important than video with video conferencing. This webcam's integrated dual stereo microphones with noise-canceling technology kills background noise without overly affecting the richness of your voice.
1080P AUTO FOCUS WEBCAM

Full HD 1080p webcam specifically designed and optimized for professional-quality video streaming on business and social gaming entertainment sites (Twitch and YouTube). True-to-life 1920 X 1080p video delivers remarkably crisp, smooth images for Skype conferencing, video calling and YouTube recordings. And built-in 2 stereo omnidirectional microphones pick up your voice and filter out background noise, enabling you to enjoy clearer voice for hassle-free communication. This streaming webcam is compatible with Windows XP SP2, 7, 8, 10 or later, Mac OS 10.6 or later. Supports smart TV, TV Box, Chrome OS, Android V5.0 or above, and Linux, Ubuntu, Xbox One, etc
Distance Learning
With our face cam,you can communicate with your teacher without any problems. If you are a teacher,you can use our laptop camera to record your videos and show it to your students as well.
Laptop Camera for Family Chatting
When you miss you family, you can use our 1080P webcam to chat with your family. And vivid video offers you a good visual experience
Computer Camera for Gaming
Are you keen on playing games?So why not go live and show your competence?Our 1080P webcam can record your game process and provide you with a vivid video.
Low light correction

The web camera is autofocus design, High Dynamic Range (HDR) technology can provide consistently high definition, keep the color on balance, no need to worry about the instability and fuzziness. Automatic low-light correction and facial-enhancement technology, provide a clear image in vibrant colors even in dim or poorly backlight settings.
Easy Plug and Play
Our 1080P webcam doesn't require any drive.Simply connect this HD webcam 1080p to your computer, laptop, PC, Mac, Android V 5.0 or above, Chrome OS etc and you computer will automatically detect our face camera.
360 Degree Webcam Rotation
The webcam head can be rotated in 360 degree so you can adjust it to a suitable record position.
Adjustable Clip Used on Different Devices
This web cam comes with an adjustable clip that makes it simple to attach it to a variety of laptop screens and desktop monitors, and it is easy to tilt the mic up or down to adjust the view. The clip also allow the webcam to sit independently on a table or desk, or the camera to swivel.
Focus type
Auto Focus
Manual Focus
Manual Focus
Resolution
Full HD 1080p
Full HD 1080p
Full HD 1080p
Microphone
Dual Microphones
Dual Microphones
Dual Microphones
Interface
USB 2.0
USB 2.0
USB 2.0
View angle
90
90
90
Compatible system
Windows XP/Vista/7/810, Mac 10.6&Above or Android 5.0&Above Skype, Youtube,I[PTV,Zoom,Windows [email protected],Gmail etc instant messaging applications
Windows XP/Vista/7/810, Mac 10.6&Above or Android 5.0&Above Skype, Youtube,I[PTV,Zoom,Windows [email protected],Gmail etc instant messaging applications
Windows XP/Vista/7/810, Mac 10.6&Above or Android 5.0&Above Skype, Youtube,I[PTV,Zoom,Windows [email protected],Gmail etc instant messaging applications
Cable length
6.6FT
6.6FT
6.6FT
✔【NOISE CANCELLING TECHNOLOGY】Built-in dual MICs with auto noise cancellation make the sound crystal clear up to 9.8ft(3 meters) An adjustable mounting clip and threaded base make it a breeze to secure the camera to computer monitors, laptops and tripods
✔【FACIAL ENHANCEMENT TECHNOLOGY】The web camera is designed with beauty effect that perfectly preserves the facial details and makes your skin immaculately in an instant. In addition, automatic low light correction makes you see clearly even in dim light.
✔【WIDE COMPATIBILITY】Our computer camera just USB plug and play, no drivers required, USB 2.0/3.0 port and it works with Windows XP/7/8/10 or higher, Mac OS 10.6 or higher. Support for smart TV, TV box, Chrome OS, Android V5.0 or higher, etc.
✔【BEST GIFT EVER】Do you have friends who are video game streamers? Do you have friends who fancy doing beauty live-streaming show?And we believe our Yongjoy hd webcam is a great gift for your friends and they will definitely love it. So come and get it in the cart!
laptop camera,#1080p #Webcam #Computer #Camera #Microphone #Auto #Focus #Web #Camera #Computers #Desktop #Laptop #Extended #View #Suitable #Zoom #Skype #YouTube #Recording